I recently had the opportunity to take the 2016 Ford Explorer Platinum Edition for a week to check it out. I have to be honest. I love my minivan. Like…LOVE it. So I didn't think I'd be super impressed with the Ford Explorer but boy was I wrong.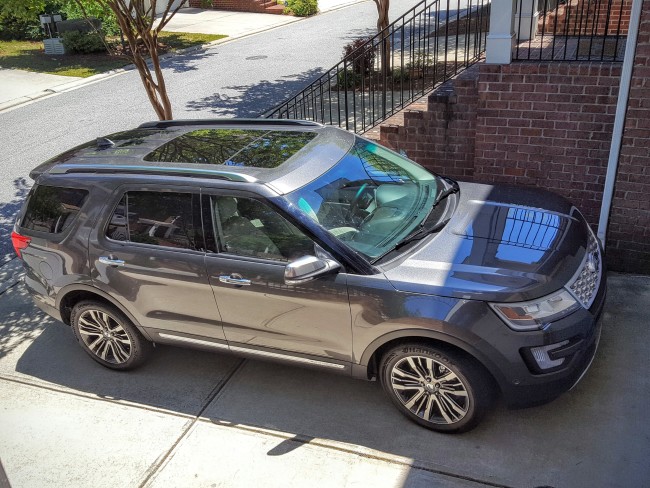 The 2016 Ford Explorer is delicious. It is sexy and sleek but yet it seats 7. I'd be proud to valet it at any posh hotel yet it doesn't look ostentatious in the car pool line either. It screams "professional" especially with all the bells and whistles included in the Platinum Edition. I was familiar with the Ford Explorer because I was able to check it out during the TravelingMom conference at Walt Disney World this past Spring. (Ford was a sponsor.) I really had a hard time parting with it. I  mean…really…it was kind of ridiculous how comfortable I was with this car. I did not want to let it go.
My husband and I took the 2016 Ford Explorer on a kid-free weekend to Savannah, Georgia. Maybe it was because there weren't 4 kids in the car or maybe it was just the car, but that was one of the smoothest, easiest, most entertaining trips we've taken in awhile. We took the Old Town Trolley tour and learned a ton about this super interesting city. We also ate A LOT and just had a good time absorbing the ambiance of one of America's greatest cities. We had so much fun, we went back with the kids for 4th of July (but not in the Ford Explorer…sniff…sniff).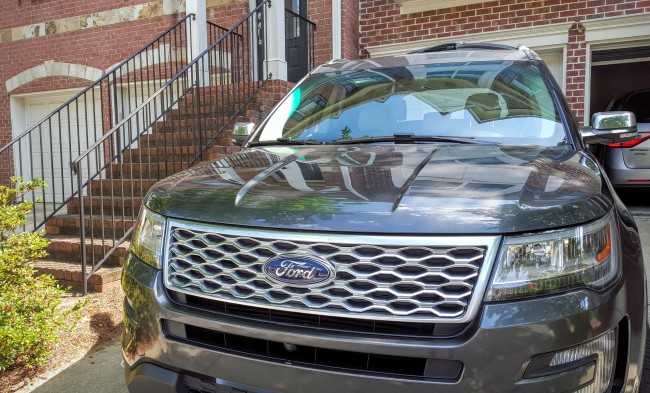 There are many reason why the 2016 Ford Explorer made such an impression on me, but I wanted to share nine of them. These aren't the ones you will read about in Autotrader or on Ford.com. Go there to find out about the torques and towing capacity and resale value. I can just talk to you about what I loved as a mom, as a woman, as a driver and a passenger in this pretty spectacular SUV.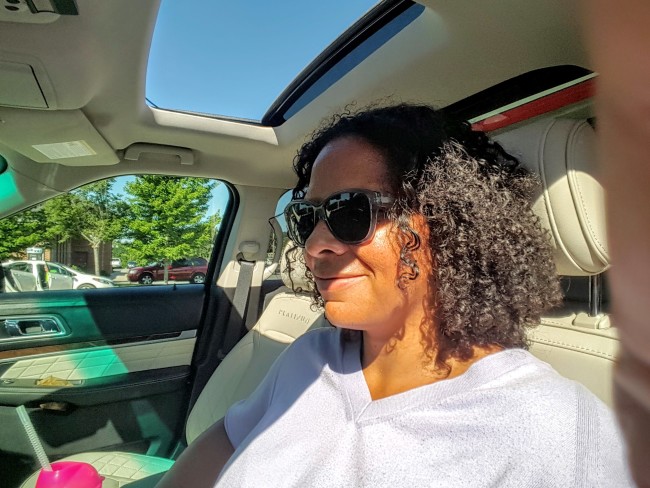 9 Reasons I Love the 2016 Ford Explorer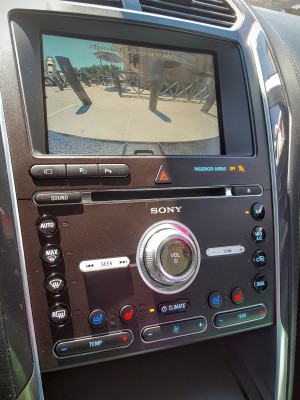 Front camera. Many high end cars, SUVs and vans have the back up cameras now, but how many have front view cameras too? I love that I can see if I'm going to run over my kids' toys just by flipping a switch so I can see over the dashboard. It was also helpful for parking to see how close I was to the parking barrier.
Full color rear camera. Like the front camera, having a rear view camera is a necessity for me. I don't think I can back up without it. On the 2016 Ford Explorer the rear camera is full color and ultra crisp. I could see everything and it wasn't affected by bright sunlight or rain.
Auto windshield wipers. When the rain came out of nowhere on the trip back from Savannah, there was no fumbling around trying to figure out how to turn the windshield wipers on. They automatically turned on when it sensed rain! That's amazing. And yes, they automatically turn off too.
Notification of close cars. When you're going 70 miles down a highway, you can get lulled into not always checking your blind spots before merging or getting over to another lane. In the 2016 Ford Explorer, it signals you with a rather high-pitched noise to let you know you are too close to another car (or that car is too close to you). This is another helpful feature to use when parking too as it notifies you if you are too close to a wall or anything else.
Automatic slow down when using cruise control. Cruise control is awesome. On our trip to Savannah, my husband put the Explorer in cruise control and really had a pretty easy drive in. One thing that made it easier is that the car senses when it is approaching another car too fast and automatically slows down, circumventing the cruise control setting. I don't know how it does this and I don't really care. I just know that it is super duper helpful.
Reads incoming text messages to you. I'm a big fan of not driving distracted. However, I also know when you have kids you don't really get the luxury of putting your phone on silent for hours on end when you're on a trip. With your cell phone connected via bluetooth, you have the option of having the system read incoming messages to you. I see this as a fantastic way to stay connected, especially for parents, without the dangers of distracted driving.
Easy to connect phone. I loved that I could connect my phone via bluetooth so easily. You do have to do it before you start driving though, which is another great way this SUV is cutting down on distracted driving. This also made it easy to turn up the 500-watt audio system from Sony and jam out!
Great fuel economy. The 2016 Ford Explorer has very impressive fuel economy. Ford says it gets up to 19 miles/gallon on city streets and up to 28 miles/gallon on highway driving. For an SUV, that's pretty impressive.
Looks sexy AND fits all my kids. Yes, it is one sexy SUV. When I took it out for a night on the town to a PTA meeting, I rolled up looking fly. Earlier that day, I also rolled up to summer camp and fit 3 car seats and 5 kids (including a friend coming over for a playdate) into it quite easily. Love that.
Moonroof. The 2016 Ford Explorer has a dual-panel moonroof that was so refreshing. It made me want to shake out my curls every time I stepped into it. It's a little thing but it made me feel like a grown woman to have the wind in my hair, good music on, surrounded by a sleek, stylish vehicle.
The 2016 Ford Explorer base price is $30,050 and the Platinum Edition starts at $52, 970. Thinking about getting one? Me too! (Don't tell my minivan!)