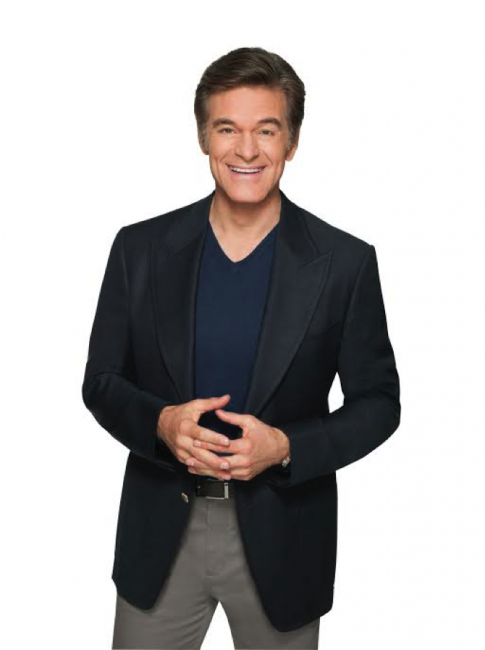 I met Dr. Oz when I was a producer at The Oprah Winfrey Show  (a lifetime ago).  He was this uber smart doctor who got the "Queen of Talk" to chat about poop and farting.  His popularity soared and his own TV show, The Dr. Oz Show was born. And starting this Fall a new chapter in his show starts with a move to Atlanta's ABC affiliate, WSB-TV, on September 8th at 3pm. He's bringing healthy back!


To get Atlanta excited about the new channel and the new season of Dr. Oz, the man himself will be attending the USANA Presents: Bringing Healthy Back with Dr. Oz" Health Expo at the Downtown Hilton on September 13th from 9a-5pm. (255 Courtland St NE, Atlanta, GA). The Health Expo is free to attend, but registration is encouraged for attendance (and required for a seat at the "90 Minutes to a Healthier You" show run-through or to get a health check).  Interested in attending? I'll be there! You can find more information on the event by clicking on the registration link. http://bit.ly/DrOzOn2

Not only will Dr. Oz be at the Health Expo, WSB-TV anchors (Jovita Moore, Justin Farmer, Karen Minton, Katie Walls, Glenn Burns, and Linda Stouffer) will be there as well, and will be available to greet attendees. Jovita Moore and Justin Farmer will also be MC'ing the "90 Minutes to a Healthier You" show.
In addition to Dr. Oz and the WSB-TV anchors, the Health Expo will include an all-star roster of experts and clinics including:
Heartburn Help clinic: Internationally recognized Gastroesophageal Reflux Disease (GERD) specialist, Dr. C. Daniel Smith of Buckhead Surgical Associates, will be on-site to conduct heartburn and GERD testing. Some registrants will be eligible for on-site diagnostic scoping to further assess their circumstances.
War On Heartburn: the Problem, Diagnosis and Treatment: Dr. James "Butch" Rosser will share his vision in "90 Minutes to a Healthier You". You can also register to attend his War On Heartburn Town Hall meetings.
 Fitness Expert and Celebrity Trainer: David Buer, Atlanta-based Sharecare fitness expert and celebrity trainer of people like Tyler Perry and Joey Lawrence, will demystify frustrating fitness myths and misconceptions about working out in "90 Minutes to a Healthier You". He will also motivate you to adopt a more active and fun lifestyle with simple and effective workout routines that you can do anywhere without any equipment.
Health Apps & Technology: Dr. Darria Long Gillespie, Chief Doctor at Sharecare, will show you how to use health management gadgets, like your smartphone, as a personal health consultant, and demonstrate free health apps to help your health needs in "90 Minutes to a Healthier You".
Healthy Southern Cooking Demonstrations: Chefs Crystal Hoang and Seth Hendricks (of the restaurant Goin' Coastal) will give Southern favorites a healthy makeover to keep the dishes low in fat and calories, but high on flavor, in "90 Minutes to a Healthier You". 
Hidden Household Dangers: Dr. David Wentz, CEO of USANA Health Sciences (a nutritional supplements company) and author of The Healthy Home, will point out the simple ways to protect your family from hidden household dangers in "90 Minutes to a Healthier You".
Fifteen Minute Physicals: Piedmont Hospital will be offering a "15 Minute Physical" on-site, where registrants can learn several numbers that will help determine their overall health followed by a consultation with a health professional. (Note: This part of the event filled up immediately and is now at capacity.)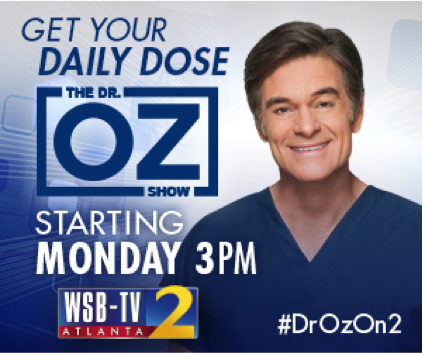 Follow the social conversation at #DrOzOn2 or visit http://bit.ly/DrOzOn2.  And remember to watch Dr. Oz on WSB-TV (channel 2) starting Monday September 8, 2014!
I am a member of the Everywhere Society and Everywhere has provided me with compensation for this post. However, all thoughts and opinions expressed are my own.