There is so much going on next month in Atlanta! From parties to Santa sightings to holiday shows, there is some kind of family fun for everyone. Check out this fun list below for some of my top picks for Seasons Greetings in and around Atlanta:
DATE SPECIFIC
Pajama Parties at A Christmas Carol, Alliance Theatre, 12/6, 13, 14, 20, and 21; $125 includes 4 tickets, parking, family photo and pre-show entertainment.
Don your PJ's to see the heartwarming tale about how Scrooge learns to mend his ways one Christmas. Families are encouraged to bring a new pair of pajamas to donate to children in need, many of whom live in the foster care system.
Simon Malls Kidgits Club PJ Party with Santa, Town Center at Cobb, 12/8 1-3 p.m. $5/child (covers activities for the whole year)
Stay in your PJs and enjoy holiday games and activities and listen to Santa read some of his favorite stories. Milk and cookies will top off the fun afternoon!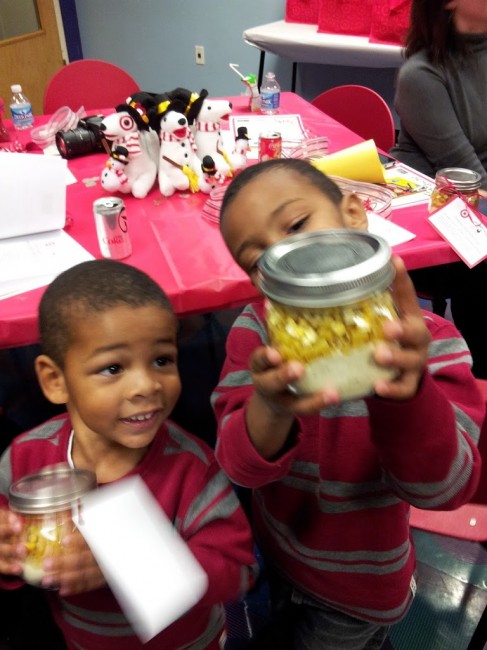 Santa's Workshop at Imagine it! Children's Museum, 12/8, 10:30 a.m. to 2:30 p.m. Tickets: $12.75 ages 2+
Join Santa and the Imaginators for a special winter holiday workshop. In addition the regular fun the museum holds, kids will get to make reindeer ornaments, enjoy story-time with Santa, and play festive reindeer games. Be sure to bring your camera to capture these special memories! Also check out their holiday trains exhibit Dec. 1-9.
American Girl Brunch with Santa, 12/9, 9 a.m., $15/person (3+)
The American Girl Store at Northpoint Mall welcomes families (and their doll friends) for a special breakfast with the man (Santa) himself. Be sure to save time (and money) to check the impressive American Girl Store, a little girl's fantasy store! They also have other holiday themed events in December so check out their events calendar.
Join the High for a time-traveling adventure in the exhibition

Fast Forward: Modern Moments 1913 & 2013

and enjoy a special art-making workshop. Builders from LEGOLAND® Discovery Center at Phipps Plaza will also be building a masterpiece entirely out of Legos in the lobby. The High Museum will also have extended hours and special events 12/24 and 12/26 to 12/31.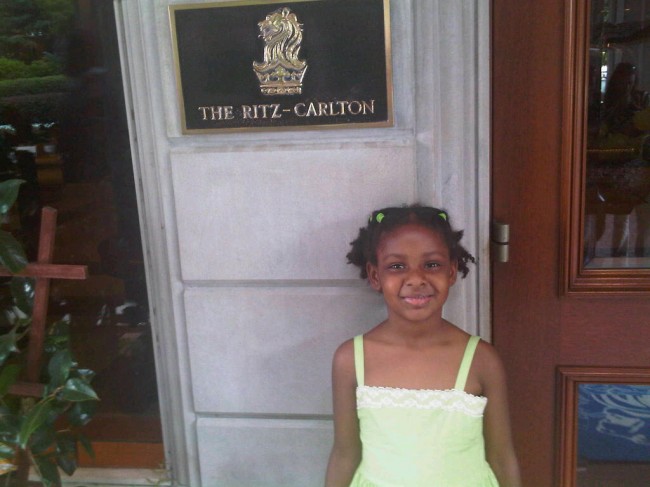 Teddy Bear Tea, Ritz-Carlton Buckhead, 12/9, 16, 22, 23, 11:30 a.m. and 2:30 p.m. Adults: $47, Children (5-12): $52
Children are invited to this special holiday event with or without their teddy bears. There will be storytelling, singing, and visits with Santa in addition to the swanky tea designed with little ones in mind. Make it a holiday tradition!
Breakfast with Santa at Maggiano's Cumberland, 12/15, 8 a.m. to 10 a.m. $40.00 for one adult and child, $15.00 for each additional person.
Bring the family for holiday fun! Breakfast includes a complimentary photo with Santa, yummy breakfast buffet, and unforgettable memories with the big guy, Mr. Claus. The menu includes: Fresh Fruit, Breakfast Breads, Scrambled Eggs, French Toast, Bacon and Potatoes. Please call 770-799-1580 to reserve your spot. This event will sell out quickly.
The Holiday Spirit at The Atlanta History Center, 12/15, 10:30 a.m to 4:30 p.m.; Adults: $16.50, Children (4-12): $11
Holiday crafts, live music, decorations, engaging theatrical performances, and a visit from Saint Nicholas provide fun-filled opportunities for families with little ones to create holiday memories. Featured activities include Journey to Holidays Past at Smith Family Farm and Swan House where guests encounter friendly "Spirits" from the 1860s and the 1930s. Make it a day to remember and have lunch at the Swan Coach House! (I got married there!)

ONGOING
Let it "Snow" at Atlantic Station, now through 1/1, FREE
Want to have a fun holiday night out with the kids and not spend a lot of money? Head over to Atlantic Station and see it "snow" in Central Park! Take in the huge Christmas tree, maybe pay Santa a visit, ride the train ($3/person), and then see it snow! While you're there get in some shopping, sip on a hot chocolate and maybe take the kids to Kilwins for an extra special treat! Schedule: Monday- Thursday: 7 p.m., Fri-Sat: 6, 7, 8, 9 p.m., Sunday: 6 p.m.
Carriage Rides in Piedmont Park, now through 1/6, $25/adult, $20/child (2-11); Carousel: $3/person
Get in the holiday mood by taking a Season of Magic carriage ride through the beloved Piedmont Park. Check out the skyline, holiday lights, and the new carousel!
Garden Lights, Holiday Nights at Atlanta Botanical Gardens, now through 1/5, Adults starting at $17, children (3-12) starting at $11.
Use this as an excuse to break out your winter wear and sip on hot chocolate as you stroll through. The 30 acres of the Garden glittering with over 1 million lights. There are children's activities for a fun family night out or call up the sitter and make it an extraordinary date night full of romance!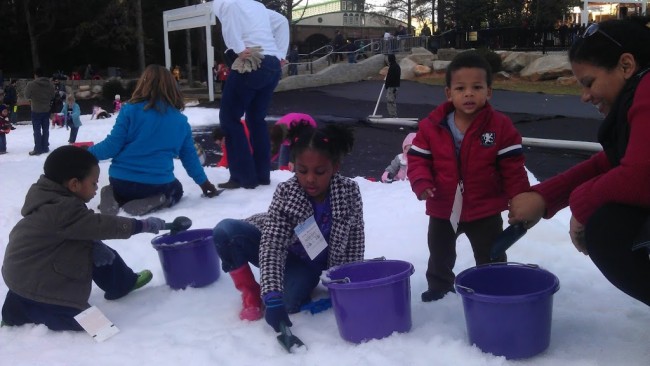 Stone Mountain Christmas, now through 1/1, Adults: $28, Children (3-11): $22, parking: $10. For an authentic, traditional Christmas event, be sure not to miss a Stone Mountain Christmas! More then two million lights twinkle from every surface! The shows, activities, music, and visits with Santa, Mrs. Claus, and the beautiful Snow Angel will make this a day to remember for the whole family! And make it a whole day of winter fun with Snow Mountain's sledding and snow play! (Plus a combo pass saves money!)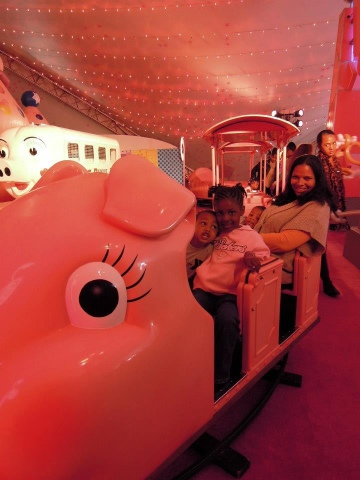 Macy's Pink Pig, now through 1/1, $3/person
The holidays don't really begin in Atlanta until you take a ride on the famous Pink Pig train outside Lenox Square mall in Buckhead. For 59 years, Atlantans have rode through the life-sized storybook during the holidays and it now benefits Children's Healthcare of Atlanta so you can have a good time and do good too. Make it an event with Breakfast with Pricilla beforehand! SO fun!
Holiday Lights and ice skating at Centennial Park, now through 1/27, $10 for 90 minutes of skating
Thousands of lights adorn one of the city's most famous parks. Go all in and lace up your skates (those borrowed from the rink of course) and have fun slipping and sliding around the rink at Centennial Park. Afterward take a stroll through the park taking in the thousands of lights adorning one of the city's most famous parks.
Santa at Rhodes Hall, 12/1-16, $35/family
Skip the lines at the mall or the extensive waiting list to see the "good" Santa and have a relaxed outing to visit Santa Claus at the impressively decorated Rhodes Hall in Midtown. The fee includes refreshments, entertainment, children's activities, and a keepsake photo to take home! Reservations go quickly so hurry!
Madeline's Christmas at Horizon Theatre, `12/8-30, Tickets: $12-$15
Enjoy this holiday musical about the little girl with big dreams based on the popular book series. The play features Horizon professionals as well as a dozen of the cutest girls culled from Atlanta's best and brightest!
Astor Holiday Rink at St. Regis Atlanta, now through 1/3, Adults: $30, Children 16 and under: $18
Add some luxury to your holidays with a lap around the swanky rink at the St. Regis. Enjoy s'mores and hot chocolate around the open pit fire, or perhaps a little something stronger. While the kids will love it, it also makes a great date night! Want to stay the night? Special holiday room packages start at $359.
What will you go to? My calendar is filling up with all this fun stuff as we speak! Happy Holidays!