The iconic Coca-Cola Company launched one of the most ambitious undertakings of its 130-year history today. Was it a new product? A store? A snapchat filter? No! They created a mobile publishing project called #JourneyxJourney and set it free today to explore the country…one highway at a time.
It's "The Real Thing" meets "The Real World".
The #JourneyxJourney tour involves sending two Millennial brand journalists from the digital magazine team, Coca-Cola Journey, on a cross-country road trip to 20+ cities around the country. Coca-Cola Journey is the digital storytelling arm and the primary communication channel of the brand, so it made sense for that team to get outside the digital world to discover, capture and amplify stories about Coca-Cola's deep ties to American culture.
JourneyxJourney Send-Off at Coca-Cola Headquarters
The three-week expedition kicked off today in Atlanta with a gigantic employee sendoff at Coca-Cola's global headquarters. I was invited to send the team off in style today!
The adventure will conclude in Los Angeles with stops from Nashville to Chicago to tiny towns along Route 66. Check out the route to see if the #JourneyxJourney team will be stopping near you. Each stop was selected based on story potential and connection to Coke's past, present and future. But they are looking for input from followers on where else to go, what else to do, and of course, what to eat when they get there. (We already know what they will be drinking!)
Mobile Brand Publishing Unit MotorHome Debuts for #JourneyxJourney Trip
The road trip marks the maiden voyage of the Coca-Cola Journey "Mobile Brand Publishing Unit", a 40-ft. motorhome converted into a video production studio equipped with cameras, filming drones and editing equipment. An onboard crew will create everything from social videos to documentary-style longform films along the route. The two Journey staffers – Emily Bucherati and Meagan Priselac – will drive alongside in a 2017 Ford Escape, courtesy of Ford. They will create and co-create daily content with consumers, fans and employees – including Journey articles, blogs, social posts, photos and more.
They really want to interact with fans and followers so be sure to reach out! I'm a big fan of all things Coca-Cola so I'll definitely be following along! And I've already passed on some of my Chicago tips. (Go Sox!)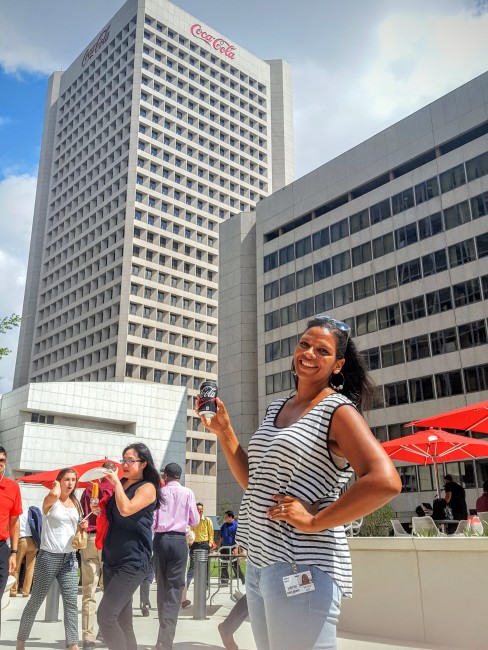 Want to see what they are posting? Check out the dedicated landing page on Journey, which also features a dynamically updated route map, curated dashboard of #journeyxjourney social posts, a Spotify road trip playlist compiled by Coca-Cola employees, and a call-to-action for readers to share their road trip memories and story tips and for the JourneyxJourney team.