It's summer vacation and you need some cheap summer activities. I get it. You've got camps, vacations, and playdates lined up but for those days or weeks when your calendar is bare, I've got the list for you!
[Last Updated June 2, 2017]
Want things to do outside? Crafts to make? Family activities? Ideas for a summer get together? I culled through the websites of some of my favorite Atlanta parenting bloggers and put together a complete guide for cheap summer activities. Now you have all their suggestions in one place. Who am I kidding? I did it for me as much as for you. I have a goal of never hearing "I'm bored" once this summer.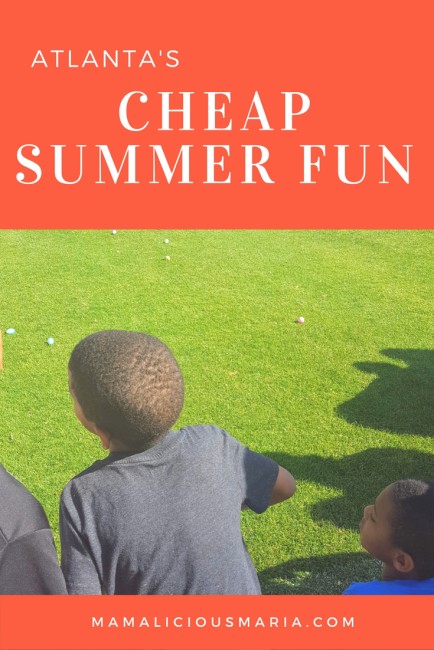 Some of these activities are free. Some are cheap. Some you have to look for the discounts a bit but you can still swing them. Pick a few. Get them on your calendar and go have some fun!
The Best Cheap Summer Activities in Atlanta
Free Activities
Ashley at Mommyweek.com knows the value of the word FREE when it comes to summer vacation. This mom of three posted the Massive List of Free Things To Do In Atlanta This Summer and it's no wonder the post has gone viral. Check out the indoor and outdoor activities that are all FREE this summer in Atlanta!
Atlanta Attractions and Parks
This Summer In Atlanta to honor the 75 Days of Summer. From festivals to splashpads, to museums, sports activities and exhibits, Meghan at YeahLetsGo.com created a great go-to guide for this summer.
Things to Do at Home or Away
Erin at MommyOctopus.com is a fellow mom of many and so she understands how to put fun into summer without it being a back breaker for moms. Her list of 50 Fun Things To Do With Your Kids This Summer is great because she created the list with her kids. It reminds us that sometimes the simplest things make the best memories and that cheap summer activities can sometimes be the best!
Splash it up!
Kathy from KathysClutteredMind.com knows the importance of beating the heat during the hot summer days. She also knows doing it for FREE is always better. She created a list of over 25 free and frugal spraygrounds and splash pads in Georgia. Personally, I'd take one of these places over a pool anyway. A pool with little kids = a lot of work for mom! If you want to sneak some educational activities into the summer, check out her list of 200 free family things to do in Georgia.
Summer Structure
Leandria at CouponsAreGreat.net knows that sometimes you just need a starter idea to get summer break off to a good start. She did the work for you by creating cool frugal summer theme week ideas for summer vacation. Not only did she give you great themes, but she also put together easy, free (or very affordable) activities you can do as a family to celebrate the theme. For anyone doing #CampMom, this is a great resource.
Summer Reading Programs
Barbara at AtlantasFrugalMom.com focused on the free summer reading programs available throughout Atlanta. These are the things you always mean to do but don't get around to. Not this summer!  Check out the Kids Free Summer Reading Programs list including ones you probably never thought of like…Pottery Barn?! While you're there also check out her posts on how to beat the heat including 9 unique uses for a water table!
Bucket List Activities
Lesli Peterson from 365AtlantaFamily.com shared her  Summer Bucket List of 52 Local Adventures for Atlanta Families as a contribution to the AJC.com. And what a great contribution it is! This is the list you go to when you need something special or you are looking for a way to make a memory with your kids.
Outside The Perimeter (OTP) Fun
Christy at AlpharettaMoms.org has an exhaustive list of cheap summer activities in her Summer Family Fun Guide. There are everything from movies and festivals to information on classes and special events. As a bonus, most of the events she lists are free!
I hope this helps you have a fun, productive, memorable summer! Mine is already off to a great start! I am wishing us all extra patience, close parking spots, and lots of "thank you for taking us here, Mommy" moments! Here's to cheap summer activities and tons of fun!