The Black Enterprise Golf & Tennis Challenge is my new Labor Day tradition. I had so much fun this year I want to make this an annual trip. For someone who loves tennis as much as I do, being given the opportunity to spend 3 or more hours on the court every day was heaven. And in addition to that I met interesting people, attended posh dinners, ate delicious food and was even able to give my kids a fun vacation in the midst of mine!
Recap of 2016 Black Enterprise Golf & Tennis Challenge
My husband and I spent the 2016 Labor Day weekend in Palm Beach, Florida at the Black Enterprise Golf & Tennis Challenge. We spent time at the beautiful PGA National Resort & Spa, the host hotel for the Challenge, and were surprised all weekend with the caliber of events and people attending them. This is an event I highly recommend.
I won.
I won my flight of the tennis challenge. Yay! There were three flights and I won the middle division. Next year I'm coming for the championship one! While the emphasis is really on golf during this event, the tennis players were a small but connected bunch and I am so pleased I really got to know these ladies (and gentlemen).
We played doubles in a Round Robin tournament and had clinics each day too. There were really knowledgeable tennis pros onsite the whole weekend offering advice and guidance. And the tennis facilities at PGA National were top notch. Oh and the Tiffany & Co plaque I won was definitely the nicest trophy I've ever received!

Bottom line: It doesn't matter your skill level for the tennis challenge, all abilities were welcomed and great pains were taken to have people of the same caliber playing against each other. Don't worry about not being good enough. You might just win!
We brought the kids.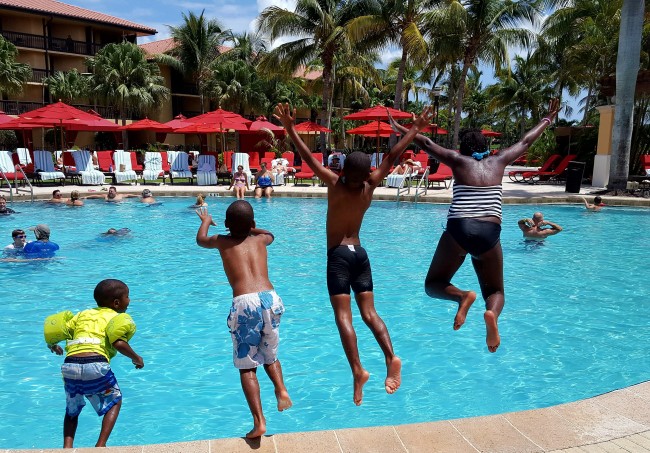 The Black Enterprise Golf & Tennis Challenge is not technically a family vacation. However, it is difficult for us to find someone to watch our kids at our home so we often just travel with them and hope for the best. It worked out well this trip! It helped that this event was held in the city where my in laws live. They got to see the grandkids and we got some free babysitting. I say that's a good deal for everyone.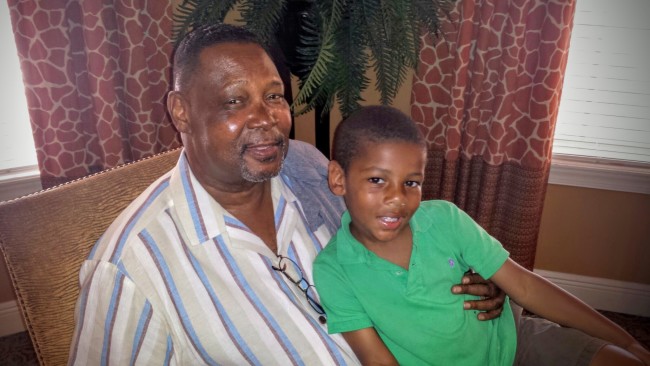 The kids also got in tons of pool time (both at Grandma and Grandpa's house and the resort) and had a ball exploring a destination they love. We even hit the beach after the Challenge was over.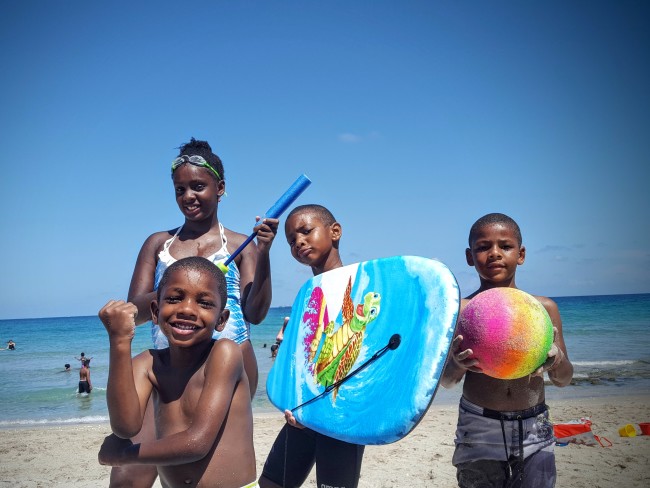 During the Challenge, we used the iZone play center at PGA National's Sport & Racquet Club. It cost $10/hour for the first child and $5/hour for additional children. They were open 8am to 1pm and could also accommodate kids between 1pm and 7pm with advanced reservations. Kids do need to be potty-trained by the way. My kids had a ball! They were very creative with how they used the space. The kids did an art project each day, got in some playground time, and checked out some new XBox games.
We also were given the opportunity to utilize the services of Sitters in a Second, an extremely reputable babysitting company which focuses on childcare in high end hotels. The babysitter, Danielle, took my kids to the pool, made them dinner (we stayed in a villa at the resort with a full kitchen), and put them to bed while my husband and I played tennis, went out to dinner, and went to one of the fancy night time parties. From the second she walked in I knew I could trust her with my kids and I could just have some adult fun myself. Woohoo!
Bottom line: With some pre-planning, you can totally bring the kids to the Black Enterprise Golf & Tennis Challenge, if you want/need to!
The resort is gorgeous.
PGA National Resort and Spa is as nice as it looks on the website. That, my friends, is not always the case when it comes to resorts. PGA National is beautiful but has a relaxed vibe that makes you feel welcome.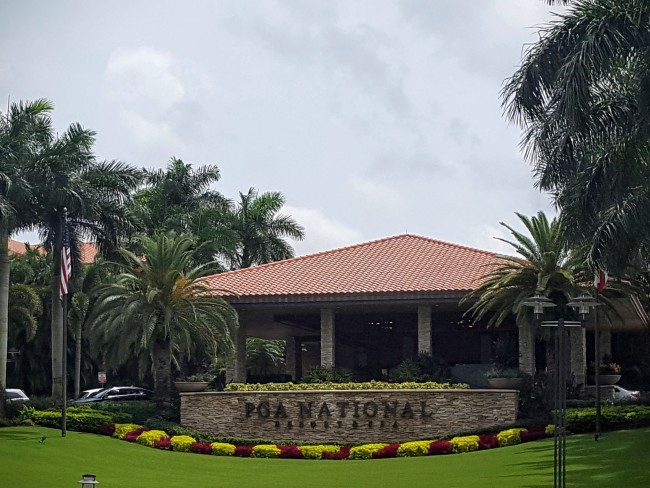 When I checked in, I asked about the availability of an upgrade to one of their two-bedroom villas to better accommodate our family. The manager took one look at my hopeful face and said to the desk agent, "If we have it available, let's give it to her! If we can make her happy, let's do it." It might have been a little thing to him but I teared up a little.  I experienced several small gestures like this during our short stay that made my heart fill with gratitude.
Bottom line: Don't assume that the affordable pricing makes this hotel less posh. It is a perfect home base for families who are in Palm Beach for the Black Enterprise Golf & Tennis Challenge or anytime throughout the year.
The events are FABULOUS.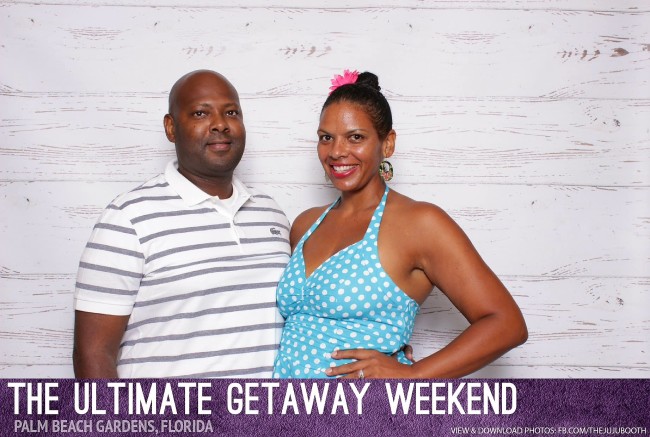 I didn't realize that there would be multi-course seated dinners or upscale buffets at the nighttime events. I didn't know there would be open bars throughout the weekend. I didn't understand that there would be amazing prizes to be won. And I certainly wasn't aware that I would be rubbing shoulders with celebrities while some of the hottest Hollywood stars performed in front of me.
Every event we went to was fantastic! My only regret is that we missed events because we were trying to build in family time.
Tip for next year: Try not to skip anything. And don't eat before going to the nighttime galas. The food was delicious. Oh, and try to go with the different themes each night. It seemed almost everyone dressed for the themes. 
Go for the people.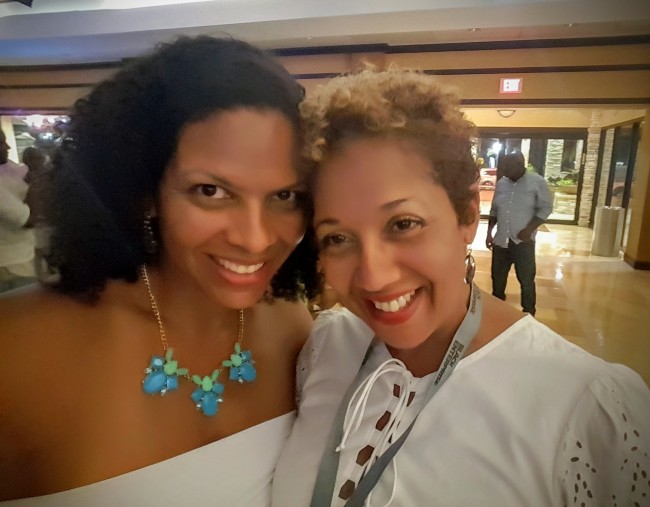 While the events are fantastic and the resort is superb, the thing I loved most about the Black Enterprise Golf & Tennis Challenge was the people. I saw little to no pretentiousness. No one was throwing out their job titles or adding their well-earned MD, JD, or PhD letters after their name. And everyone was so gosh darn interesting. I mentioned how much fun I had at the US Open and a new friend told me about her trip to the Australian Open this year. Another told me about how she included a tour of Stade Roland Garros when she went to Paris the previous year. They weren't bragging, but rather sharing similar (albeit much grander) experiences.
My new friends and I chatted about books we were reading, new music we had discovered, and we talked passionately about the state of politics. These friends encouraged me as much as they inspired me and I am better for meeting them. I felt like I found my people. Does that make sense?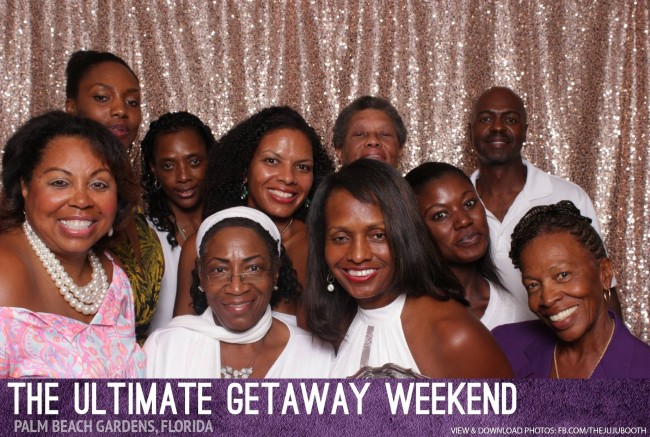 Bottom line: Even if you are an introvert, even if meeting new people makes sweat drip down your back, do it anyway. People want to meet you too! And they are nicer than you think.