I recently had the opportunity to visit the Best Buy Tech Home at Northpoint Mall in Alpharetta (outside of Atlanta). It was impressive at how much technology they were able to stuff into this exhibit. And how much I wanted to take home!
What is the Best Buy Tech Home?
The Best Buy Tech Home is a mock home set up in the center court area of Northpoint mall. It is open to all shoppers. It's totally free by the way and customers can touch and try the latest technology products in a homelike environment.
By going through the Best Buy Tech Home, you can learn about the latest in CE and Connected Home. Feel free to go through it with an expert Blue Shirt or Geek Squad Agent, or on your own. Have more questions or want to bring this technology home? You can schedule a free In-Home Consultation with an In-Home Advisor, which is a new service from Best Buy in the Atlanta area.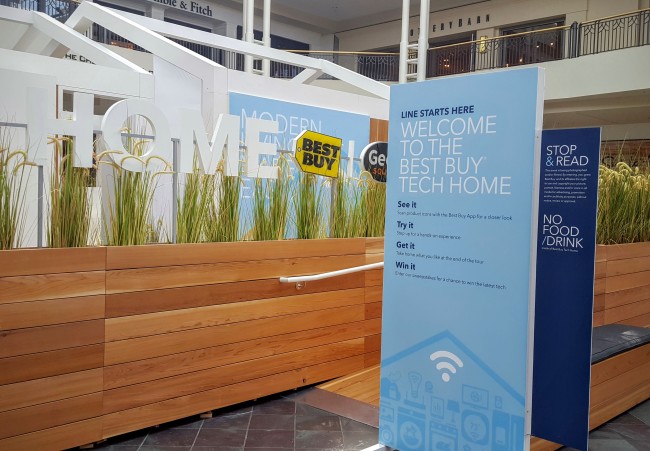 The Best Buy Tech Home is open from now through October 14, 2016. It was originally displayed at the Mall of America in Minneapolis.  Atlanta is only its second destination!
The technology displayed in this cool set up includes things I didn't even know were possible, much less that I could buy them right now at my local Best Buy. The biggest thing that I learned by visiting this tech home is that everything is web-connected these days. Like…everything. Check out some of my favorite finds from Samsung.
Top Six Samsung Products for Moms in the Best Buy Tech Home
1. Samsung Gear S2 Smartwatch
This Smartwatch lets you get notifications from your phone right on your wrist. You can also receive calendar notifications, texts and news updates. The built-in S Health app lets you track your steps, check your heart rate and even gives you a poke when it's time to get moving. Plus, it looks really chic and modern.
2. Samsung Gear VR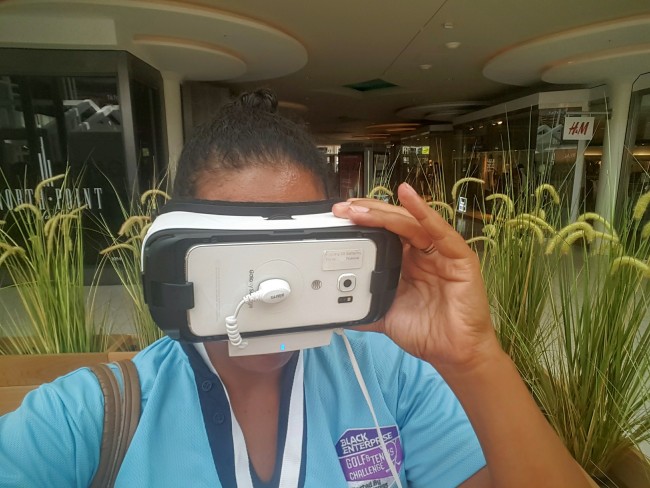 The Gear VR was something that really shocked me. I'd heard about this virtual reality device of course but figured how cool could it really be? Well it can be very cool. VERY COOL indeed. I watched a bit of a sample movie and was amazed at how I immediately forgot about where I was and I was immersed in the video. And it really did feel like I was not just watching something, but rather experience it…living it.
3. Samsung SmartThings Smart Outlet
The Samsung SmartThings Outlet allows you to control and automate lights, electronics, and small appliances from anywhere, using your smartphone. You can set things to automatically turn on and off on a schedule or in response to other activities in your home. I love the easy installation of this one. The Smart Outlet turns any regular three-prong outlet into a smart, controllable power outlet.
4. Samsung SmartThings Hub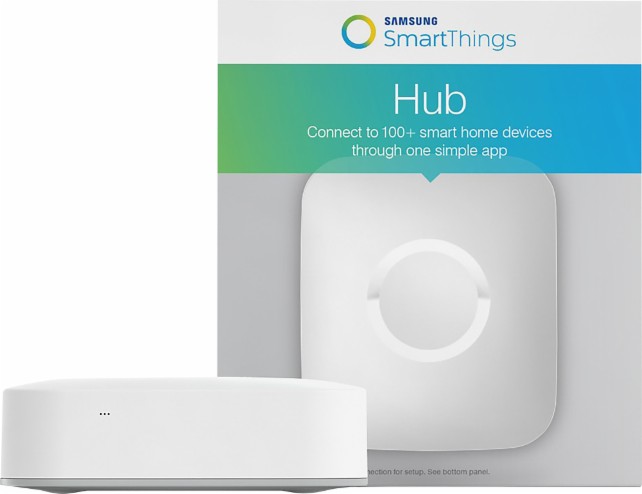 The Samsung SmartThings Hub is like the brain of your smart home. It connects wirelessly with hundreds of compatible smart devices from locks, to lights, to outlets, thermostats and more. It allows you to make life easier by controlling and monitoring your home from anywhere using your smartphone with the SmartThings app.
Once you have the Samsung SmartThings Hub and free SmartThings app, you can add as many devices as you want to customize your smart home. It works with the following brands: Samsung, Honeywell, Schlage, Yale, First alert, D-Link, OSRAM LIGHTIFY, Leviton, Bose, Cree, and others.
5. SmartThings Arrival Sensor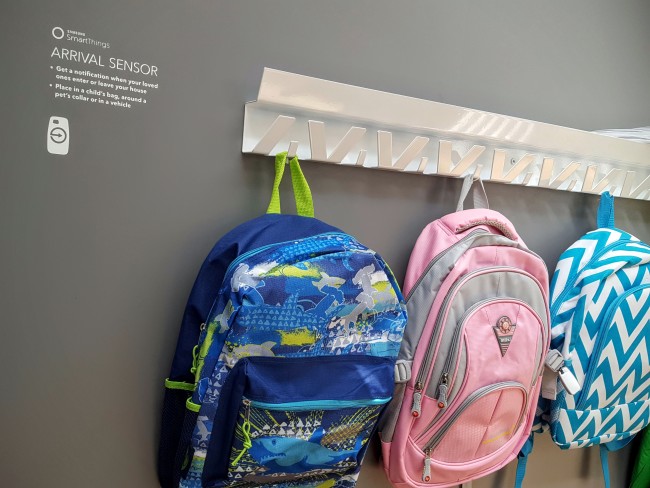 If you have kids who spend any time alone at home, this SmartThings Arrival Sensor is perfect for you. Just place the sensor in a child's bag, (or even around a pet's collar for your 'fur babies'). You will receive a notification on your phone when your child arrives home from school, or a pet leaves the house. You can even trigger different actions to take place when you arrive or leave home, such as automatically turn the lights on or off, or unlock or lock the door.
6. Samsung SmartThings Home Monitoring Kit
Best Buy has bundled a convenient Samsung SmartThings Home Monitoring Kit which is the easiest way to turn your home into a smart home. Included in this kit are the Hub, SmartThings Motion Sensor (which detects movement and temperature in your home and sends you alerts if there's unexpected activity), two SmartThings MultiPurpose sensors (which notifies you when doors, windows, cabinets or your garage are open or closed) and a SmartThings Smart Outlet .
Win prizes just by visiting the Best Buy Tech Home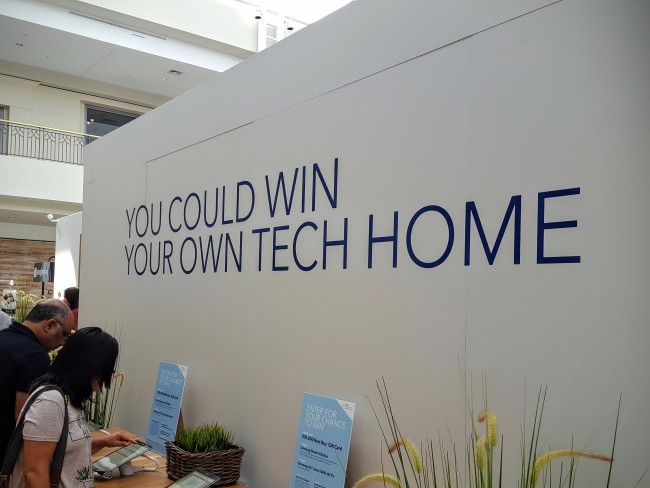 There are two opportunities to win some awesome prizes just by visiting the Best Buy Tech Home at North Point Mall. Be one of the first 250 to visit the Tech Home at the North Point Mall each day from 9/27-10/14 and you could win one of many prizes made with Qualcomm technologies including Sonos Play:1 speakers, Samsung Gear S2, and more.
You could win a $10,000 Best Buy Gift Card, a Samsung SmartThings Smart Home Collection, Samsung Dream Kitchen, and a Samsung 55" SUHD 4K TV and more by filling out a short survey after the tour.
No purchase necessary. See BestBuy.com/TechHome for full rules.