I was thrilled when my friends at MomSelect and MommyParties and asked me to host some girls for a Mega Bloks Barbie party. And if I was thrilled my five year old daughter was over the moon! We were sent the Build n' Style Luxury Mansion and Build n' Style Pool Party and 10 Build n' Style Ice Cream Carts to share with all her friends. The girls were all so excited (and my boys loved playing with them too)!
We met some girls from my daughter's preK class at a local frozen yogurt shop because who doesn't love some fro-yo on a winter afternoon? (I mean it is Atlanta so the temperature hovered around 50 degrees.) Besides, it went with the theme! Now that the girls are in kindergarten (all at different schools) they don't see each very often so this was a great opportunity to catch up, have a treat, and play with these great Mega Bloks.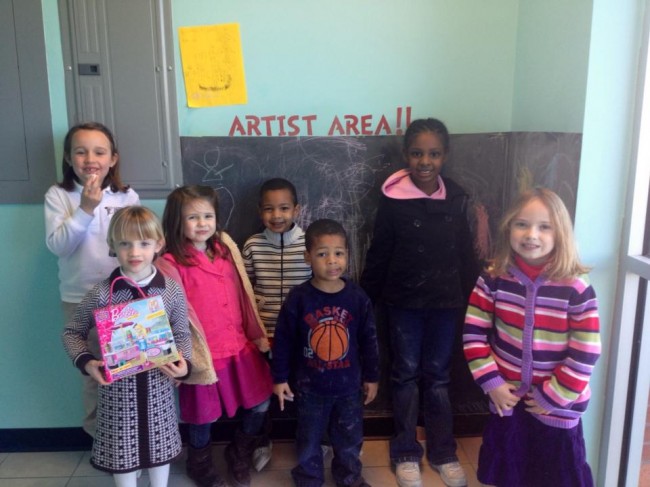 The Mega Blok Barbie sets are so cute! I was wondering if my 5 year old could put it together without adult help (which, with 3 other kids, is in short supply in my house) and she totally could. She loved putting it together but also loved playing with it once it was all together too. My 4 year old boy likes putting the sets together and then destroys them only to put them together again. And that my friends is the difference between boys and girls.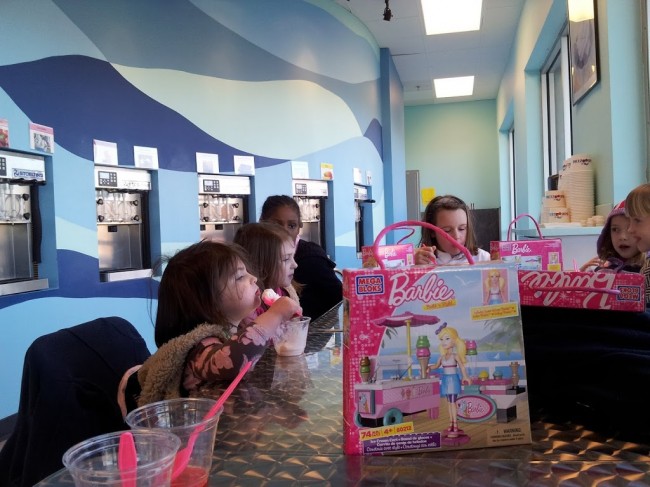 I highly recommend these Mega Blok Barbie sets. They are a great way to get girls to do something and then gives them something to play with. Plus the smaller sets sell for under $10 so they are super affordable. They are for girls 4 and over and are available online or at retailers everywhere. We sure had an afternoon of fun with them!
Disclosure: I received products from MomSelect/MommyParties but all opinions are of course my own!