Back to school shopping for four kids is expensive, time-consuming, and nerve-wracking. I want my kids to look good (which makes me look good if I'm honest) but I don't want to spend tons of money or travel across the city going to many stores.  I want fun colors, well-constructed clothes that won't fall apart, and a good deal. I can get all of that and more at Oshkosh B'gosh. In case you haven't shopped at Oshkosh B'gosh lately, there are many reasons you should.
8 reasons to shop at Oshkosh B'gosh for back to school clothes (or whenever)
Clothes both kids and moms like. Kids like the cool graphic tees. Moms like that they are built to be able to pass on as hand-me-downs. Kids like the slightly distressed jeans. Moms like the low price and reinforced knee. Oshkosh B'gosh is one place where kids and moms can agree.
Thoughtful designs. I found the clothes in Oshkosh B'gosh to be really thoughtfully created. The sayings on the t-shirts are funny but not vulgar. The clothes are trendy to a point, but also have that classic styling so you know kids can wear them forever.
Superior quality. If these jeans can make it through a season with my three rough and tumble boys, they can make it through a season for anyone. Oshkosh B'gosh clothes are simply made well. They aren't the trendy ones that only last for a few washes. These are the clothes that I pass on from boy 1 to boy 2 to boy 3. They're that good!
Many sizes. I love that there are husky and skinny styles for both girls and boys at Oshkosh B'gosh. Their sizes start from size 0 and go all the way up to size 12. I can shop for all my kids in one store! And I love that they have an adjustable waist as my boys are tall but lanky and really need that.
Great styles. Oshkosh B'gosh has so many styles to choose from. Their B'gosh Blue Jeans are back and better than ever. They are not too skinny or to slouchy, so perfect for back to school. This Fall, they have added some bold prints and even glow-in-the-dark shirts for the pop of "hipster" your kids are looking for. Their new Black, White & Indigo Collection is also pretty cool. I wish some of these pieces came in my size!
Value-conscious prices. Back to school shopping can be tough on my budget, but I like that I can get clothes and shoes that last for decent prices. I don't want the cheapest stuff out there because it will get worn out quickly. However, lower prices combined with great coupons makes me a happy shopper! [Be sure to check out the 25% off coupon below!!]
One stop shop. I can shop for all my kids here! Plus, I can get their pajamas, dress shoes, underwear in all the right sizes, and even matching hair bows. Not only does Oshkosh B'gosh carry lots of sizes, they have an impressive selection of accessories too! Like most moms, I have a limited amount of time to get this shopping done and I just can't run from shop to shop to do it.
Oshkosh B'gosh gives back. In partnership with K.I.D.S./ Fashion Delivers, Inc., and DonorsChoose.org, Oshkosh B'gosh launched the B'gosh Jeanius Campaign. It gives customers the opportunity to donate a new pair of jeans or make a cash donation right at the register to help students in need this school year. All denim donated from now through September 16, 2015, will be delivered to local children, while cash donations will be dispersed to local DonorsChoose.org organizations. The Carters Charitable foundation will match all cash donations up to $50,000 and all denim donations with a new item of clothing. For more information visit: www.oshkosh.com/bgoshjeanius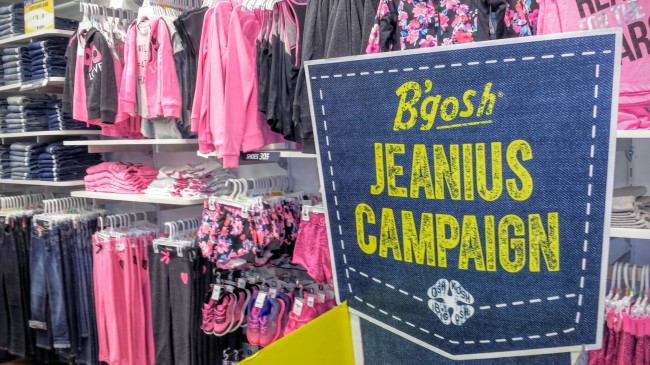 As you can see, I'm a big fan of Oshkosh B'gosh clothes for my kids. Luckily there is one close to me. To find a store close to you, use the Oshkosh store locator.  And be sure to stay up to date with new styles and trends as well as sales and coupons by following the brand on Twitter and Facebook.