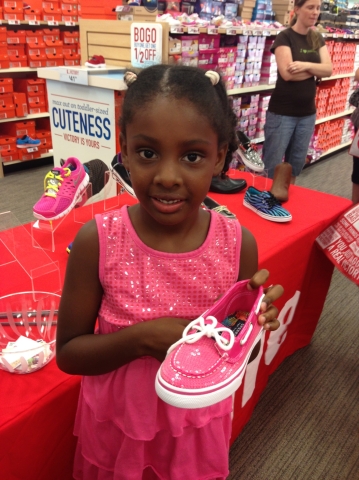 My 6 year old loves sparkles!
Everyone who knows me knows that I love a good deal. With four kids, the only way to "make do" is to look for promotions, clip coupons, and research ways to save money. It has gotten to the point that I don't like to pay full price for anything…and honestly who does? So when my good friend Krystyn from Really, Are You Serious, asked me to come to a Back to School event at Famous Footwear to check out their shoe sale for the whole family, I was intrigued. "Sale" you say? Let's see. (I also got a giftcard for coming out to the event as a nice bonus.)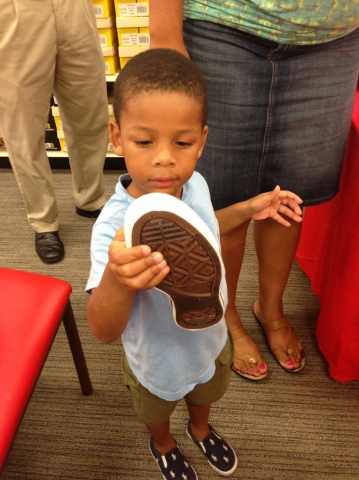 Even my 3 year old was shopping!
For whatever reason, I had never been into a Famous Footwear but was surprised at the name-brand shoes that were there. This is not a discount/off-brand shoe store, but the prices were pretty good. If you want cheap (prices and shoes) go elsewhere. Come to Famous Footwear for the brands your kids are begging you for (Converse, Twinkle Toes, etc) and you can save a few bucks. Currently they are running a Buy-One-Get-One 50% off sale on all shoes, including ones on the clearance rack. Want to save more? Join their rewards program to save an extra 20%!
I was able to pick up four pairs of shoes, including a super cute pair of Converse for my daughter, for under $45. These are all name brand, well-made shoes that will make going back to school a little "cooler" for my little style icons.
Check out this video to see Krystyn and other mom bloggers go "shoe crazy" as they run through the store picking out as many shoes as they can in 30 seconds. (The pregnant mama can run for some shoes!) Over $700 was raised for charity during this frenzy!