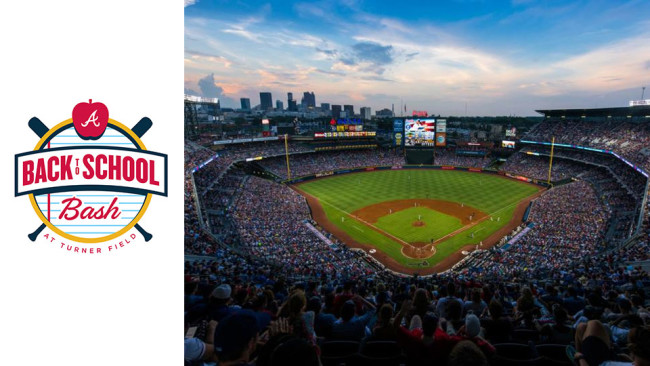 The Atlanta Braves are celebrating the start of the new school year with a Back to School Bash on Sunday, July 31. The event provides a chance for the entire family to enjoy one of the last days of summer at the ballpark when the Braves take on the Phillies.
Ticket packages will feature a pregame party and an Atlanta Braves jersey-themed lunchbox. Fans are encouraged to arrive early for interactive chalk art in Fan Plaza and music, games and a chance to win prizes at the Right Field Patio party. Following the game, all kids under the age of 14 are invited to participate in Kids Run the Bases presented by Children's Healthcare of Atlanta.
Be sure to get to the game early for all the fun in Fan Plaza, including the pregame party in the Right Field Patio from 11:30-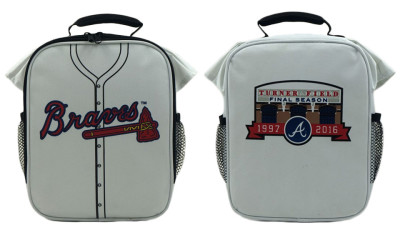 1:30 pm. There will be music, games and a chance to win prizes and all of it is included in your ticket price. All tickets also include an exclusive Atlanta Braves lunch box. (Cross that one off your lengthy school supply list!) Note: The Braves lunch box is only available with the purchase of this ticket package. You will receive a voucher for the lunch box that can be redeemed at the Right Field Patio from 11:30 a.m. – 1:30 p.m. during the pregame party or at Fan Central (located across from section 132) after first pitch.
The Atlanta Braves encourage you to come early and stay late!  Following the end of the game the Braves will hold their much-loved Kids Run the Bases! Children ages 4-14 are invited to run the bases after the game. Note: Want your kids to be among those who get to do it?  Be sure to have the kids line up at the Hank Aaron Ramp located near Aisle 129 after the game.
Atlanta Braves Back to School Package Pricing
Upper Box – $22
Outfield Pavilion – $30
Club Pavilion – $32
Terrace Infield: $50
Atlanta Braves to Collect School Supplies
The Atlanta Braves and Arrow Exterminators will be in Monument Grove from the time gates open until the end of the first inning collecting donations for the final day of the annual School Supplies Drive. From 12-12:40 p.m., Braves pitcher Tyrell Jenkins will be signing autographs for fans who donate items with a minimum value of $10. For more information on the School Supply Drive, visit Braves.com/SchoolSupplies.
For more information or to purchase tickets to Back to School Bash, visit Braves.com/BacktoSchoolBash.