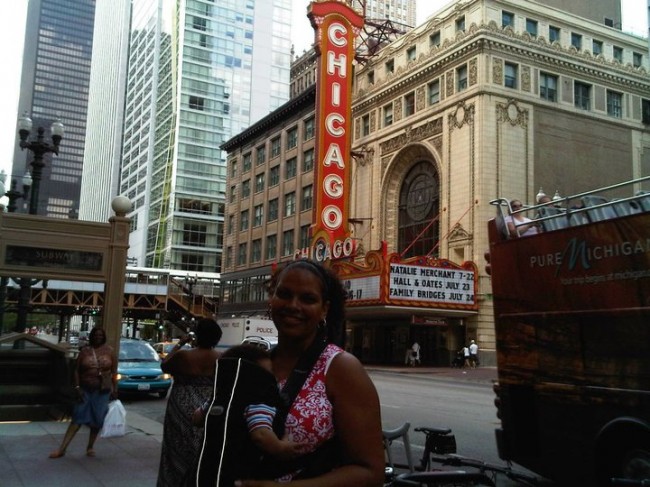 Chicago is the biggest little town you will ever visit.  Sure over 2.7 million live there.  And it's loud and fast and the skyscrapers really do look like they're touching the sky. But when it comes down to it, the city is as welcoming as any city can be.  Don't be scared.  Here's some helpful hints for getting around this great city!  Also see an insider's guide things to DO and things to EAT in Chicago.
Getting around Chicago: Walking
Bring your comfortable shoes because the easiest way to get around Chicago is to hoof it.  The city is laid out on a grid so if you have an address you can figure out where something is very quickly. Here's a couple handy reminders:
Lake Michigan is always East. The city is built on that fact.  Confused about whether you're heading the right way, figure out where the lake is.
The East and West in an address is VERY important. If an address says it's "east" (like 10 E. Ontario) then it is east of State Street.  (This address is just east of State Street). If an address says "west" (like 1058 W. Aberdeen) then it is west of State (about 10 blocks west). Michigan Ave is east of State Street.
Similarly, anything with "south" in the address is south of Madison Street which is near Millennium Park.
Confused? Ask a Chicagoan for help.  They may see aloof but most are willing to help the tourists. But they might laugh at you later.  Just sayin'.
Getting around Chicago: The CTA (Chicago Transit Authority) or the "L"
The "L" is the short name for the subway and/or elevated train in Chicago.  It's not that complicated and is the best way to get into the city from either O'hare or Midway.  You don't even have to leave the airport!  Save yourself $40, $50, or more and spend the $2.25 (or $5 if you're at O'Hare) and take the train.  It will be faster too!
Just to keep it simple: The "Red line" goes North/South.  The "Blue line" goes East/West.
Want a cheap ride to McCormick Place from anywhere on Michigan Ave?  Take the #3 King Drive bus.  It lets you off at the main entrance to the South Building on King Dr.
Getting around Chicago: Cabs
Cabs are plentiful and a great way to cut down on all the walking, especially when it's hot.  Chicago cab drivers are trained to know how to find addresses and most of them know how to get to the tourist destinations without an address handy.  They might be a little expensive but share with a friend and cut the costs!
Pick up a cab that is already going in the direction you want to go in.  It will save you time and that saves you money.
There are some streets where cabs aren't allowed to stop, like in front of the Art Museum on south Michigan.
Have cash.  All cabs are supposed to take credit cards but sometimes they aren't working (or that's what they say to tourists). Just make it easy on yourself and the cabbie and have cash, especially for short trips.
Don't forget to tip. A dollar or two is customary.
What's your best tip for getting around big cities?