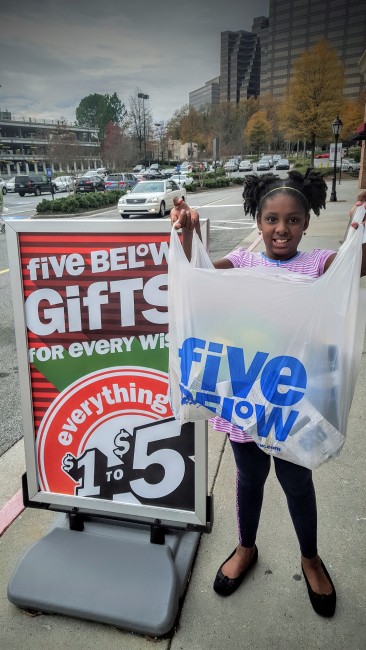 I was introduced to Five Below for this holiday season and I am in love! I took my 8 year old daughter along for a shopping spree so she could buy presents for her friends and I am not sure which one of us had a better time. I was astounded at the value of the items in the store (all $5 and below!) and she was amazed at how far her money went. And the items in the store were actually items we wanted and could find at other big box stores for twice or three times the price!
For those who haven't been to Five Below before, here's a little background:
Five Below is the leading retailer of trend-right, extreme-value merchandise to the teen and pre-teen market.  Everything sells for $1.00 to $5.00.
Five Below's merchandise includes everything from sporting goods, games, fashion accessories and jewelry, to hobbies and collectibles, bath and body, candy and snacks, room décor and storage, stationery and school supplies, video game accessories, books, dvds, iPhone® accessories, novelty and "gag," and seasonal items. Five Below combines exceptional value with trend-right, quality merchandise in a vibrant shopping environment.
After shopping here with my pre-teen (insert gasp that I have a pre-teen), I came away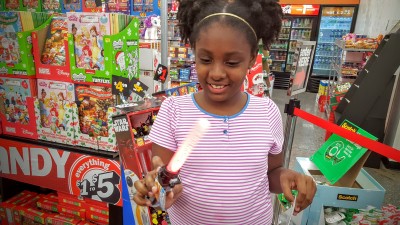 with 9 reasons other moms and kids would want to shop here.
9 Reasons To Shop At Five Below
Everything in the store is $5 and below.
The items are on-trend. My daughter kept saying, "this is sooo cool!".
The inventory is dynamic and ever-changing. So when you see something, grab it!
Five Below is located in convenient neighborhood shopping centers. We went to one in the Perimeter area of Atlanta.
Five Below offers extreme value. We saw "Glow Lights" toys that sell as big box stores for $19.99. At Five Below, they were $5!
Despite low costs, these items are still high quality. They include the brands you know and love such as  leading brands such as Lego®, Wilson®, Hasbro™ and even hot Disney® and Marvel® toys. (Star Wars™ paraphernalia anyone?)
Five Below is the "yes" store. "Yes you can buy that, too." "Yes, you can buy one for all three of your brothers." "Yes, you can get candy." I love saying "yes"!
Kids can spend their own money. While I was provided with gift cards for this blog post, my daughter wants to go back with her piggy bank money. She saw so many things she wanted to buy (and actually CAN buy)!
It's fun! Five Below doesn't take itself too seriously. There are funny t-shirts and silly gifts and lots of items that will just make you smile.