I love Scottsdale Arizona! I spent a week there this Spring and received complimentary accommodations, and some food and activities thanks to the Scottsdale Convention and Visitors Bureau and Hyatt Regency Scottsdale. My opinions are always my own though. And my opinion of Scottsdale has always been…breathtaking.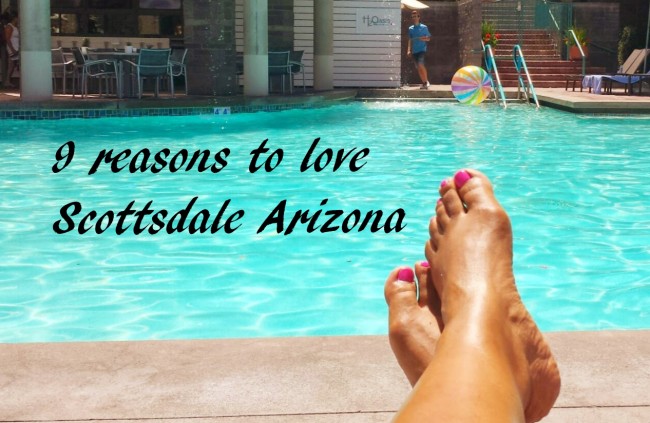 I am lucky enough to have  two sisters who live in the Scottsdale area who could keep me company for a long weekend of rest, relaxation and wine. Lots of wine.
Since I have many family who live in the area, I've visited Scottsdale for years, but every time I go I find a new reason to love Scottsdale Arizona. Not only is the city aesthetically amazing, but there is so much to do, see, and eat there that a vacation to Scottsdale is a guaranteed good time.  For those of you who have not been to this amazing city yet, here are nine reasons to love it!
9 Reasons to Love Scottsdale Arizona
Food.
I love to eat so food is always something that will draw me in. Scottsdale is a foodie's dream. SWB, A Southwest Bistro at the Hyatt Regency Scottsdale Resort and Spa at Gainey Ranch is the right mix of fun dishes and eclectic yet tasty pairings. Get a table outdoors if possible and enjoy the live musicians on the weekends. Want to hang with the hipsters? On Saturday nights head to the Food Truck Caravan in Scottsdale for an unusual mix of both food and a diverse crowd of people. Bring the kids, the dogs, or just yourself and enjoy the food and live music.
 2. Breathtaking Setting
There are few places in the world more beautiful than Scottsdale, Arizona. With the stunning backdrop of Camelback Mountain (and several other mountain ranges in the vicinity) against the seemingly perpetual brilliant blue sky and the surprising beauty of the desert, Scottsdale can take your breath away quite easily.
3. Seasons
Yes. Scottsdale has seasons. They just aren't as pronounced as elsewhere in the country. Winters are mild while summers in the desert are as hot as…well…the desert. The beauty of having seasons is that you get to appreciate the unique aspects of every month of the year. My favorite time to visit is April or October but for CRAZY good deals visit during the summer and then just spend your days at the pool.
4. Romance
It's not hard to see that a beautiful setting, good food, and fun activities means that Scottsdale is a perfect place for romance. Want to up the ante? Book an appointment at one of the many luxury spas in the area. My sisters and I spent a peaceful afternoon at the Spa Avania at the Hyatt Regency Scottsdale. In addition to fabulous services, we took advantage of the sauna and relaxation rooms. They even had a private whirlpool and pool area exclusively for spa guests. Check out the gondola rides at the Hyatt Regency Scottsdale too. If you can't spark romance there then I don't know what to tell you.
5. Wine
Think you have to go all the way to California for good wine? Not so much. Arizona has a plethora of wine purveyors including Lawrence Dunham Vineyards which has a tasting room in Old Town Scottsdale. The LDV wines are from the Arizona wine country in the southeastern quadrant of the state. Don't know much about wine? No problem. Learning is half the fun! (The other half is drinking.) We had some tasty libations at  SWB, A Southwest Bistro too!
6. Hotels
Scottsdale is the home of the uber-luxurious resorts. They seem to be around every corner here. While they can get pricey during high tourist season (basically Oct-April), there are screaming deals during the rest of the month. My sisters and I stayed at the Hyatt Regency Scottsdale Resort and Spa at Gainey Ranch. It was simply beautiful, peaceful, and an overall extremely enjoyable hotel stay. Perhaps it was because I was with my lovely sisters or because I wasn't with my 4 kids or because the service at the resort was unparalleled. Regardless, it was a fantastic landing place for us and one I hope to visit again. [See the review of other hotel stays in Scottsdale here and here.] I also spent two nights at the sprawling Phoenician Resort, which was the host hotel for  the Mom 2.0 blogger conference I also attended on this trip. It put the "luxe" in luxurious. These two resorts spoiled me rotten!
7. People
Maybe I'm a little biased because some of my favorite people in the world live there, but the people of Scottsdale, Arizona are some of the nicest anywhere. With all the money floating around in this city, you'd expect to find people more concerned with themselves or their million dollar estates, but instead they are genuinely nice. It's a little like Pleasantville where everyone is smiling and happy to be there. Scottsdale has a small town feel (with big town amenities) that is simply refreshing.
8. Outdoor activities. With the sun shining and wide open spaces galore, the outdoorsy part of you will love Scottsdale Arizona. From hiking to tennis to golf to walking around the massive malls and shopping areas (Scottsdale Fashion Square is my fav), there are plenty ways to get your Fitbit steps in. Want to challenge yourself? Attempt to climb Camelback Mountain. It's a bit intense for most people, but the view at the top is worth it! If hiking is not your thing, just go explore the desert and see what you can find. Or, just hang out at the pool.
9. Entertainment. I love it when I happen upon great entertainment at the hotel I'm staying in. It just makes it so much easier to forget calling that Uber and just relax at the resort. The Hyatt Regency offered a sample of Native American dancing on Friday nights, live music at the indoor/outdoor Center Stage Bar, and even unbelievable opera singers on their gondola boats. Want to leave the resort? Go visit Old Town Scottsdale for tons of dining (and drinking) and entertainment venues. Plus you can get some cool Old West souvenirs to take home!