For those looking for unique toys for a birthday or the upcoming holidays, why not make them educational too? I'm a big believer in exposing kids to travel however you can. I believe it has an intrinsic value, even for the very young. The benefits of which include a curiosity about the world around us and an awareness that there is more to this great Earth than just our corner of it.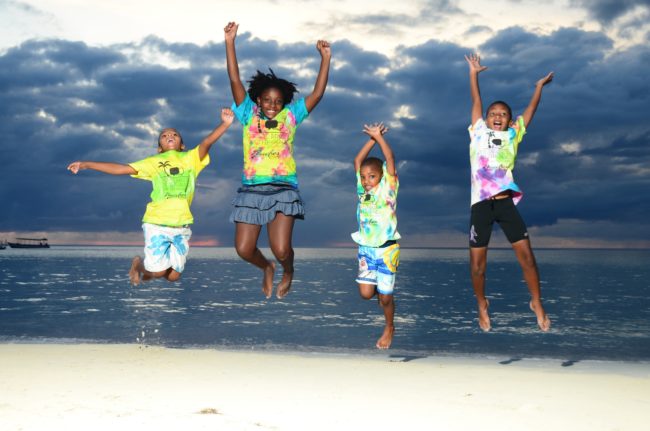 Last year we got our four children passports and hopped a plane to Jamaica. We stayed at
Beaches Negril
as part of the
Social Media on the Sand
invite-only conference. It was so surprising and beautiful to see a country through the eyes of my children. They loved everything about the trip. We can't wait to go on more international adventures together.
Perhaps you can't hop on a plane and visit different countries around the world, but you can incorporate that idea into your daily play time. You can spark that curiosity in your children just by encouraging them to play with these unique toys. There is social, cultural, political and economic value in having a global mindset. I look forward to exposing my children to different parts of the world and all its wonders.
When we aren't traveling though, I found these eight toys which help to keep that passion for the diversity of our planet alive. There are unique toys and games for all ages and they are all under $30 each. Each of them will help to inspire a love for world travel and global diversity in kids long after your trips are over…or perhaps before they ever begin.
8 Unique Toys to Inspire Curiosity and Spark a Love for World Travel
1. Backpack World Rummy
A classic game with a twist, the brainy game of rummy comes back with new rules and a new travel theme. This magnetic game in a fun tin box is great to take with you while traveling and features 50 magnets with fun information about different countries and continents.  Designed for 2-4 players. Ages 7+.
MSRP: $12
Turn your children's play kitchen into a multicultural experience with these foods from around the globe! This set features realistic designs of 15 popular foods from different regions, including a sushi roll, samosa, edamame, and more! Young food enthusiasts will also enjoy recognizable favorites including pizza and a taco. A tasty way to invite early imaginative play, build early vocabulary and social skills., and normalize food not typically thought of as "American". Ages 2+.
MSRP: $29.99
Take a fascinating journey across the world with the hIve Q Monumental Landmarks game. The game is a cross between go-fish and trivia and introduces players to the world's greatest landmarks, both man-made and natural. The easy-to-follow instructions and interesting trivia questions help broaden the horizons of young players in a fun way. This can be even played in the car or on a plane. Ages 6+.
MSRP: $14
This giant, foam puzzle is fun to assemble while also being a great hands-on introduction to foreign countries, oceans, and exotic animals around the world. This 54-piece floor puzzle is water resistant and easy for little hands to handle. Ages 5+
MSRP: $29.99
Celebrate cultural diversity! These unique toys help little ones learn about other cultures and ethnicities with mix and match wooden puzzle pieces. Children from different continents and their indigenous animals are each composed out of three puzzle pieces. Your child can also jumble pieces to make funny animals and people. The Children of the World puzzle frame is integrated into the box lid for easy storage and so you don't lose any pieces. Older kids will love to play pretend with this diverse cast of characters.. Age 18months+ 
MSRP: $24.99
Inspiring a love for travel doesn't have to wait until kids are older. Ignite the passion earlier with this adorable pilot plush doll and motion activated airplane rattle. The airplane features music and sound effects, while colorful sliding beads, multiple textures and crinkly parts will keep your little one entertained. The two-in-one play set has an on-off switch for silent play. This would make an excellent gift for baby's first plane ride! Ages 0+.
MSRP: $12.95
Take baby around the world in the bath with the plane, boat, and truck squirtee set. Squeeze bath squirtees to fill with water for fun water play! Sure these are only bath toys, but they can be used to talk about travel or the excitement of seeing new places. Ages: 0+
MSRP: $4.99
Your kids will have fun discovering our world. They won't even know their learning! With funky illustrations and detailed information like monuments and animals the Mapedia USA puzzle will teach your kids an array of interesting facts about the United States. The 100-piece jigsaw puzzle comes in a colorful, round tin case.
MSRP: $11.99