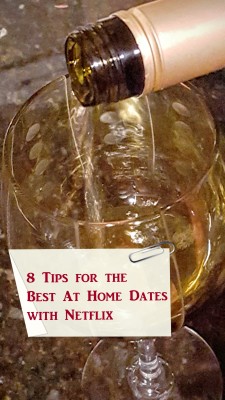 At home dates are great for those of us who need an affordable alternative for Valentine's Day. And what's easier, more fun, and cheaper than a Valentine's Day movie night with Netflix? Put the kids to bed, lock the door, and turn into husband and wife as opposed to mom and dad. The key though is to make a movie night special and get your partner excited about a Netflix night! Here are 8 tips to have you do just that!
8 Ways to Make Netflix At Home Dates Special
Snacks anyone? Make watching Chocolate extra special like decadent brownies or punch up popcorn with drizzled chocolate and candy.
Create a signature cocktail. Champagne pairs perfectly with Breakfast at Tiffany's or anything on Netflix.
Spa for two. What could make watching Clueless together even better? How about pampering yourselves Beverly Hills style? Set up some simple spa items like face masks and foot baths and don't forget the scented candles.
Bring it outdoors. For those living in warmer climates (or hearty souls who can bear it), hang a sheet over a clothes line and project your movie for a fun "drive in" feel. Don't forget comfy chairs and cushions!
Test your movie knowledge. Is it hard to keep your husband interested in a film he's already seen? Next time, think of some trivia games to watch along with it. Or since you are at home, how about a drinking game?
Costume contest. Get into the romance theme by having everyone dress up like their favorite leading man or lady. Can you recreate Love Actually actually?
Plan an intermission. Whether it's back-to-back Vince Vaughn features or a whole night with Gone with the Wind, plan a break in the middle to chat and refill on snacks.
Bring on the comfort. If your furniture doesn't scream "romance," bring out your extra pillows, comforters, sleeping bags or anything comfy to cozy up on the floor instead.
Want to know which movie to choose? Proflowers put together this cool graphic to help you make the best choice no matter your Netflix night partner!
At home dates don't have to be boring! With some ingenuity, creativity, and fun, a Netflix night can be just what Valentine's Day ordered. And if all else fails, you can always just Netflix and chill.