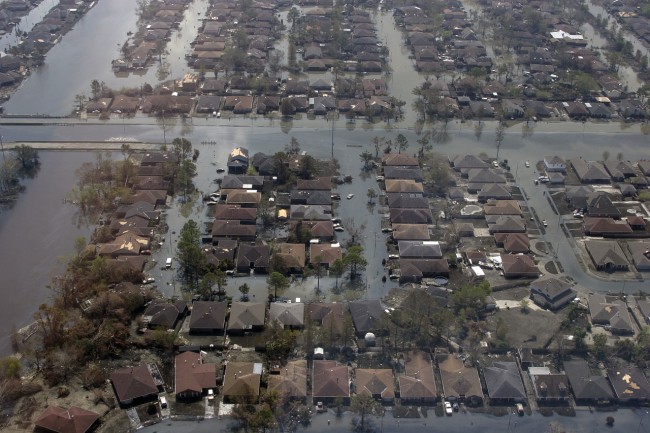 Hurricane Katrina was one of the worst natural disasters in American history. It was also one of the worst man-made disasters when it came to the response to this great American city. I watched it unfold from my Chicago apartment and couldn't tear my eyes off the images that seemed simply unbelievable. It is still hard to fathom that 1833 people died as a result of Hurricane Katrina and the aftermath that followed.
It wasn't until I moved to Atlanta the following year and started meeting evacuees who had taken up residence there that I really put a face to the disaster. These were people just like me and it continued to boggle my mind how they were treated. And then last month I went to New Orleans and was filled with gratitude that this amazingly unique city has survived. Ten years after Hurricane Katrina, New Orleans is thriving and definitely open for business! While more work is definitely needed, especially in the harder hit areas like the 9th Ward and Treme, the resurgence can be felt all around.
During the Mocha Moms Girlfriend Getaway in New Orleans, members of the New Orleans chapter of Mocha Moms gave a presentation about their experience with Hurricane Katrina and what they want others to know about their experience. I wanted to share those ideas with you.
7 Misconceptions of Hurricane Katrina 10 years later
The levees breached. It wasn't necessarily the force of Hurricane Katrina that created all the problems, but rather it was the antiquated levees breaching, creating the doomsday scenario that had been feared since the city was created. The storm surge was something many New Orleans residents think outsiders just don't understand.
Residents were not lazy. The residents of New Orleans who didn't leave before the storm were not obstinate or  lazy or short-sighted, most of them stayed simply because they had to go to work, as the city didn't shut down until right before the hurricane hit. Many others didn't have relatives out of state or the city.  Some simply didn't have money for a long weekend out of town (which is what many people thought it would be).  There was also a lack of reliable transportation or the gas money for gas for a long trip to far away cities.  Some evacuees had to pay for a week up front at the hotels. Could you do that?
Nearly impossible to get through traffic prior to storm. Some people tried to leave days before the storm but simply were stuck in the tremendous crush of traffic.  I was told by a New Orleans resident that even people who left 3 days before Hurricane Katrina hit were on the road for 30 hours just trying to get to nearby Houston.
Hurricane hit harder than imagined. Hurricane Katrina was supposed to hit the Gulf Coast as a category 3 hurricane. Generally, many New Orleans residents don't leave for a storm of that size and strength.
All residents were affected. While the poor were hit the hardest, it wasn't just them who were left with nothing.  Hurricane Katrina was the great equalizer and left doctors and lawyers homeless along with residents of the housing projects. This was not just an issue that affected only the disadvantaged.
The fight isn't over. Even 10 years later, there are some people who are still fighting for FEMA money and dealing with the red tape victims of other natural disasters post-Hurricane Katrina have not had to deal with.
You did make a difference. Your help made a fantastic difference in the weeks and months following Hurricane Katrina. Your contributions made a difference! Your money made a difference! Your care and concern for the evacuees in your town made a difference! Your support of the church groups and non-profit groups who have come down to help rebuild New Orleans made a difference! And there are still opportunities to help. Check out Rebuilding Together New Orleans for more information.