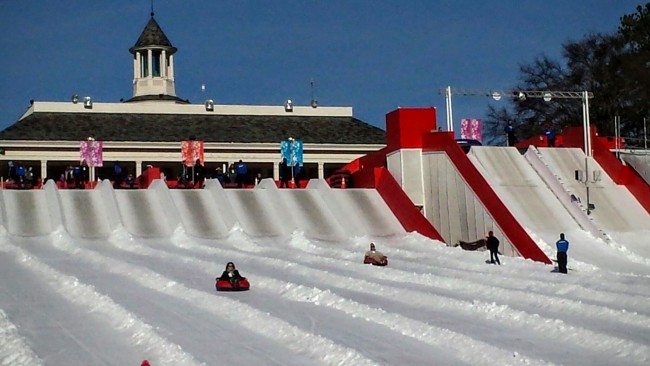 Snow Mountain, the ultimate Southern snow extravaganza at Stone Mountain Park near Atlanta, is now open! Take some time out to enjoy the five football fields of winter wonderland in weather that actually feels like winter! There are 20 lanes of tubing, a 400-foot hill for the family-sized tubes, a "bunny hill" for little ones and a huge snow play area for everyone. This is one of my kids' favorite winter activities every year!
Snow Mountain is open select dates through February 28th, but don't wait until the last day to go. Enjoy it now while the crowds are relatively low. Want more tips? Here you go!
5 Tips For a Fun Family Day at Snow Mountain
Go early. Take advantage of the warmer hours during the day. Don't worry about the snow melting. (Their cool technology allows for snow to be produced in any climate…up to 360 tons per day!) Think it's too cold to be outside? Your kids don't!

Bring clothes. Bring a complete change of clothes for when you're done playing in the snow. The snow may not have fallen from the sky, but it still feels like snow and the kids will be cold and wet after a couple hours. Get into some warm clothes and then see what else Stone Mountain has to offer (which is a lot).
Pack a lunch. Stone Mountain doesn't restrict families from bringing in food. Throw a picnic lunch into a cooler and then splurge on pizza for dinner. It will save you a ton of money!
Be patient. Playing in the snow is supposed to be fun, especially for Southern kids who don't get to do it very

often.However, things are bound to go wrong during your "fun family outing". Remmeber to pack your patience (with your kids as well as yourself) and give everyone around you grace. Have a positive outlook and make your Snow Mountain day one to remember.