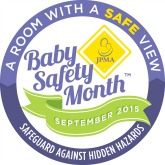 September is Baby Safety Month and time to focus on how to keep your baby safe. It's a month for parents and caregivers to double down on their safety efforts, especially those that affect our youngest ones. Baby Safety Month is a month long observance sponsored by the Juvenile Products Manufacturers Association (JPMA) and focuses on increasing awareness of safety issues that may affect any young children in your home.
Check other recent posts about keeping kids safe at home and at school.
As a mother of four, I've made a number of mistakes when it comes to keeping my kids safe. So in honor of Baby Safety Month, I wanted to share 5 things NOT to do when it comes to baby safety.
Do NOT keep liquid laundry packets within reach of small children.
DO keep them in their original package and on a high shelf. Don't tempt young children in your home with these liquid laundry packets. They can be harmful to young kids if ingested or if they come in contact with their eyes. I love the convenience of these liquid laundry packets and how well they work on our laundry so I've learned to keep them out of reach of my kids.
DO NOT leave small items around the house.
DO pick up spare change, magnets, toys with small parts, batteries, and anything else a crawling baby might find and put in his or her mouth. Even if these things don't look like food, don't taste like food, don't smell like food, babies are curious and they put everything in their mouths. Like…everything!! Since a baby's windpipe is very tiny, even something like a button can get stuck and close off their airway. Better to be safe than sorry!
DO NOT leave furniture and electronics unsecured.
DO make sure to tether heavy furniture like TV consoles, dressers, bookcases, TVs and the like to the wall to keep your baby safe. The leading cause of injury to children happens when these heavy pieces tip over on top of a young child. My oldest son helped me learn this lesson when he tipped over a dresser in his room after attempting to walk up the drawers like stairs (while he was supposed to be taking a nap)!
DO NOT leave pot handles sticking out when cooking.
DO keep all the pots on back burners if possible, or if not, make sure the pot handles are turned inward. Curious hands might smell your good cooking and want a look for themselves. That curiosity can create severe repercussions. Also, be sure not to leave hot cups of coffee, tea, or soup out where little hands can reach them.
DO NOT allow a baby access to cords.
DO keep all cords tied up and away from little hands. Cords on blinds, electrical cords, or any other kind of cord can be a strangulation hazard for your little one. This doesn't mean not to have them in the house, but like everything else to keep your baby safe you must be vigilant about where and how you use them.
It goes without saying that you should always be watching your kids to keep them safe. However I know it's hard, especially when you have more than one.  I've left one kid alone to go help another or to answer the door or even just to go to the bathroom. It's kind of amazing I kept 4 kids aged 5 and under alive!
Here's to safe babies, safe homes, and Baby Safety Month!
The American Cleaning Institute has challenged me to help inspire parents to take charge of their household cleaning products and store them, including liquid laundry packets, properly. These unique packets contain highly concentrated doses of detergent to make laundry time easier, faster, and less messy for moms like me who need all the help we can get. For a chance to win $2,500, take the pledge to be the key for a safe laundry room and routine.
What are your tips for keeping your little ones safe during Baby Safety month and all year long?