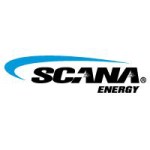 Spring is moving season. Looking for some moving tips and tricks to make this huge job a bit easier? You've come to the right place! Whether it is across the street or across the city or even across the country, anyone who is moving their family knows what a Herculean effort this can take. With this in mind, I partnered with SCANA Energy, a natural gas marketer in Georgia, to provide 5 simple moving tips and tricks to help you out.
5 Moving Tips and Tricks
Start early. While my family has been in our current home for six years, we have definitely outgrown it and hope to move in the next couple years. Since moving is a process, I plan to start early and get myself and my family (and my house) ready for the next step. Clearing out clutter, cutting down on excess brought into the house, and updating the house with small repairs can go far in helping to make moving easier. The longer you have stayed in one place, the more important it is to start early.
Use soft items as padding. Don't buy padding to place around fragile items! Use the items you already have and that need to be packed too. Pillows, stuffed animals, linen and other soft things can be put in regular garbage bags and placed around big items in the moving truck or can be used to fill empty space in boxes or the truck itself.
Put masking tape on your mirrors. No, this will not stop the mirror from breaking BUT it will stop all that glass from shattering all over a box or the moving truck.
Transfer your utilities ahead of time. You don't want to get to your new address and have to wait for gas service, phone or *gasp* internet service. Think ahead! SCANA Energy customers can easily transfer their service online.
Look for deals. I'm always looking for a deal on everything. I hate to pay full price! Check out group buying sites like groupon.com and livingsocial.com to hire movers at a discount. Go to your local retail store to ask for boxes instead of paying for them. And also check out deals in your new location for phone, gas, cable, and other utilities. SCANA Energy offers up to $100 in bill credits new customers who are moving! [During sign up use promotional code: mover100.]
SCANA Energy in Georgia
For those moving to Georgia or within Georgia, you can get more information on natural gas options here. Or maybe just check out how natural gas service works in Georgia.
SCANA Energy is known for its excellent customer service, competitive natural gas rate plans and a sustained commitment to their local community. They help celebrate the arts, enhance local education, and provide energy assistance to those who need it. SCANA Energy serves households and businesses as a leading natural gas marketer in Georgia. The company also has a regulated unit, SCANA Energy Regulated Division, selected as the state's only natural gas provider of last resort.