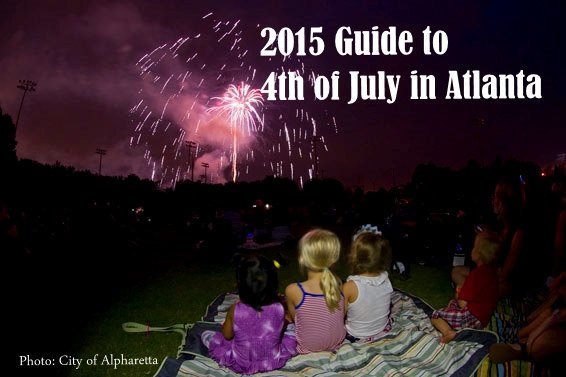 The 4th of July is coming! In Atlanta that means oppressive heat and humidity and some of the country's best parades, fireworks displays, and other fun entertainment.  There are no shortage of places to go to experience a fun and festive 4th of July. Want to be among ten thousand of your closest friends? No problem. How about a swanky affair overlooking the throngs. Gotcha. Oh you want an old school country village 4th of July. For sure. There are many kinds of events for 4th of July in Atlanta. Here are a few you might be interested in.
A Free 4th of July in Atlanta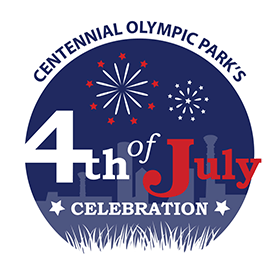 Centennial Olympic Park's 4th of July Celebration will offer fun and entertainment for the entire family, including free music and Atlanta's number one fireworks display.Gates open at 6pm on 4th of July for a family-friendly good time. The crowds will be fierce and there is a limit to the amount of things you will be able to bring in (like no large backpacks) so check the website for specifics. Cost: FREE
Head to Buckhead for daylong 4th of July festivities. This year's activities will include the largest fireworks display in the Southeast, musical entertainment and food concessions. Everyone is invited to experience Atlanta's time-honored tradition and celebrate as Lenox Square lights up the sky on the 4th of July starting at 9:40 p.m. !   Most Lenox Square shops and restaurants are open from 10 a.m. – 6 p.m.  Musical entertainment begins at 6 p.m. Cost: FREE
A Family Friendly 4th of July in Atlanta
See Centennial Olympic Park's fireworks without the worry of being down in the crowds. Come to Level 7 of the Georgia Aquarium's parking deck for a prime firework viewing area, summertime desserts and beverages, carnival games, arts and crafts, and a live DJ. Cost: $15/children $20/adults [Note: Tickets to this even do not include admission to the Georgia Aquarium].
There are few places in Atlanta more patriotic than Stone Mountain. Come early and stay late for full days of fun. Experience what's new at Stone Mountain Park during their Summer at the Rock. Board the Scenic Railroad and check out the new Georgia Justice Wild West Train Show. Join in the Celebrate America Parade, or perhaps challenge yourself on SkyHike, the nation's largest family adventure course. Leave some time to cool off in the spray on Geyser Towers. And be sure to stay late for the fantastic newly-updated Lasershow Spectacular in Mountain Vision. Sing a long to the fun songs and marvel at the technology that creates it all. There will be a special patriotic fireworks show immediately following the Lasershow Spectacular during the Fantastic Fourth Celebration. Know before you go with this handy guide. Cost: starting at $24.95/adults, $19.95/children
Coca-Cola July 4 Fest at Six Flags Over Georgia
Spend the 4th of July holiday weekend making some memories at Six Flags Over Georgia. July 3 through July 5, Six Flags is the premiere destination to celebrate our country, enjoy the summer, and share great times with friends. Bring a Coca-Cola can and get into the park one hour early to have exclusive access to some of the park's hottest rides. Come early and stay late as there will be a spectacular fireworks show each night. For even more fun, you can buy tickets to the VIP experience to get exclusive access to Hurricane Harbor from 6:30 p.m. to dusk which includes live entertainment and a catered meal. There is an additional cost of $25 to  add on the VIP experience to a ticket or $63 which includes admission ticket. Cost: $43.99/person online. Before you go read about 13 tips to make your Six Flags experience more fun as well as a guide to taking kids to Six Flags Over Georgia.
An Adult Friendly 4th of July in Atlanta

This 4th of July, celebrate with unlimited beer samplings, food, live music, activities and an unobstructed view of the Centennial Olympic Park fireworks! Red White & Brew will be held in the Oceans Ballroom from 7 p.m. to 10 p.m., with fireworks viewing on the Aquarium's parking deck rooftop. You will get  the city's best view of the Centennial Olympic Park firework show! There is a strict 21 and over policy for this event. No children allowed. Cost: $55/ticket [Note: Tickets to this even do not include admission to the Georgia Aquarium].
A Small, Local and FREE 4th of July in Atlanta
Celebrate Independence Day with family and friends at Wills Park on Saturday, July 4, 2015!  The spectacular fireworks display begins at dusk!  Entertainment and children's activities will be on the lawn behind Alpharetta Community Center from 6pm to 9pm.
Join Decatur's July 4th Pied Piper Parade as it winds through downtown Decatur. Decorate your wagon, ride your bike, skate, or walk in this event. Fireworks will begin approximately 9 p.m.
Head to Acworth to watch as one of the largest fireworks shows in Cobb County takes place over Lake Acworth. Food and drinks will be available from vendors and live musical entertainment will make the atmosphere festive and patriotic.
Want to see even MORE to do for 4th of July in Atlanta? Check out Atlanta With Kid's Guide to 4th of July Celebrations. Macaroni Kid Canton-Woodstock-Cumming also has some great information for all the local celebrations.