The 2016 Atlanta Holiday events season is upon us! For anyone who lives in the great metropolis that is Atlanta or perhaps will be dropping through this month to visit family or maybe take in a bowl game, there are TONS of holiday happenings for the whole family. I have had so much fun already this season going to some of these events and activities and I have more to do! Here are my absolute favorite 2016 Atlanta holiday events. Get ready for a jolly good time!
The Best 2016 Atlanta Holiday Events
 1. LanierWorld's Winter Adventure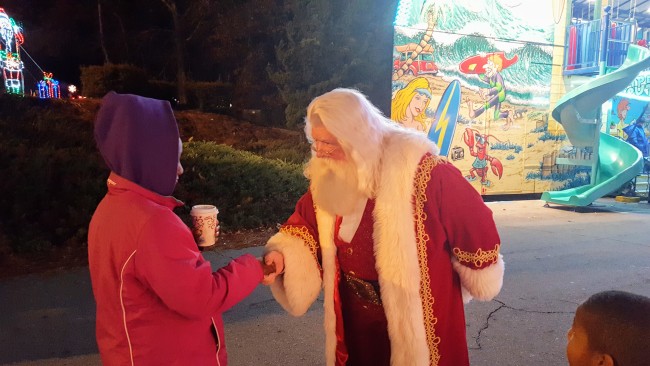 There's so much to do at this festive holiday event. Start with driving tour through 7 miles of magical light displays. Then get out of the car to check out the snow play zones, speed slides and bubble-filled ice skating. There is also a collection of classic carnival rides, holiday movies on a 5-story "Spectacular Screen", visits with Santa to share your wish lists and a live nativity theatrical play – presented nightly now-December 23. Holiday shopping, s'mores roasting and delicious treats are all available for you too! Tip: Buy tickets online to save money on the magical light displays as well as the Winter Adventure activity bands.
 2. Santa Claus at Phipps Plaza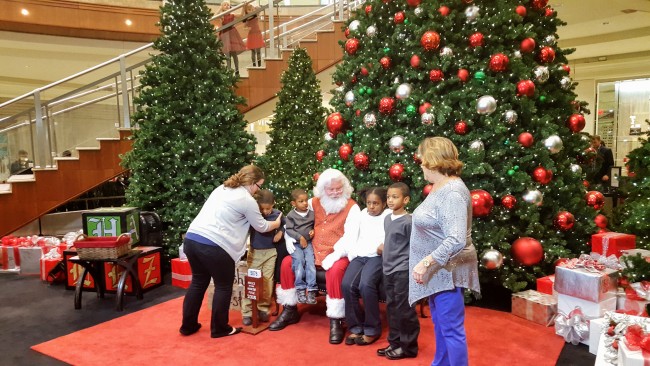 There's a reason so many Atlanta families book their visits with the Phipps Plaza Santa Claus as soon as appointments open in August. This guy is the real deal. He's engaging, doesn't rush you, and really makes it more of an experience. Plus, you can get a DVD of your visit and each year add on to it making a really sweet keepsake. Tip: The website says they are fully booked but if you can be flexible, email Santa (SantaAtPhipps@gmail.com) and get put on a waiting list in case someone cancels at the last minute.
 3. Adventure to Santa at Northpoint Mall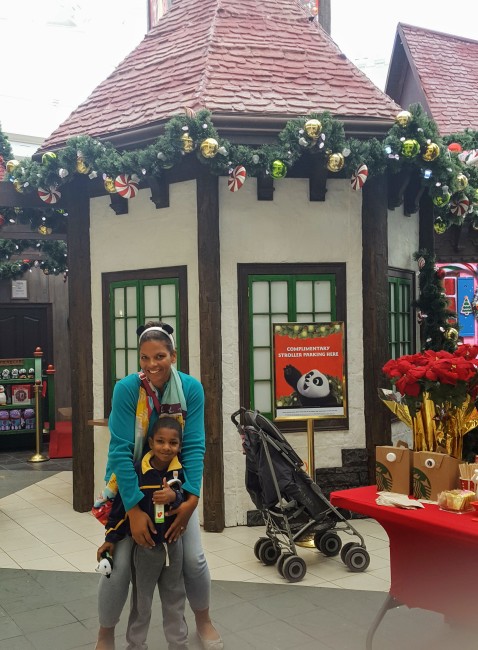 For kids who want to do more than just stand in line forever waiting to see Santa, come out to the Adventure to Santa experience at Northpoint Mall. With games, a simulated ride, cute elves, and an adorable set up, there's so much for kids to see and do as they make their way to see the big guy himself. This year, the theme is Kung Fu Panda! The photos are really so cute! Read more about my Adventure to Santa experience here! Tip: Photo packages range from $35 to $75 and can be selected ahead of time to reserve a space for you online, so there's no waiting!
 4. Stone Mountain Christmas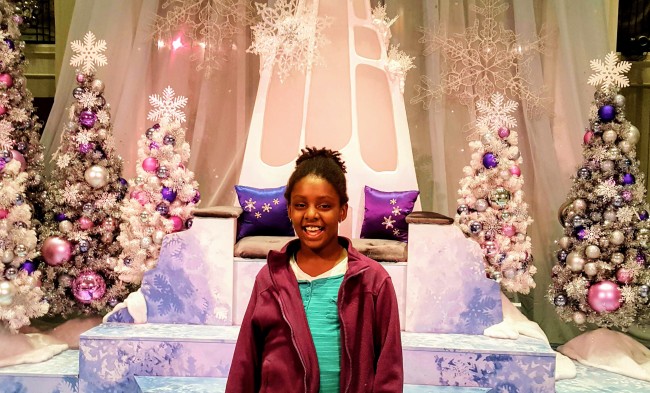 One of my favorite Christmas activities for the last five years is to make the drive out to Stone Mountain to take in the lights, fun, and pageantry of a Stone Mountain Christmas. (Read about our trips in years past here.) This is a place where the true magic of the season is in the air. Enjoy the glow of more than two million lights, festive music and visits from some your favorite holiday characters. Check out what's all included:
NEW! Rudolph The Red-Nosed-Reindeer 4-D! The beloved movie comes to you in a new and exciting format! Inside the 4D theatre, enter the world of Rudolph, Bumble, and the Misfit Toys and experience the new activities, décor, and photo opportunities.
NEW! Skylights Spectacular: A Musical Walk-through Experience. Feast your eyes on thousands of lights, projections, special effects and photo opportunities!
NEW! Clarice the Reindeer joins Rudolph the Red-Nosed Reindeer® and Bumble™ the Abominable Snow Monster at Rudolph's Merry Little Meet and Greet. Kids of all ages can meet these heartwarming characters or catch them in the nightly Christmas parade!
Enjoy live performances that are sure to get you in the Christmas spirit, including The Littlest Christmas Tree, Forever Christmas, Twas the Night Before…A Holiday Cabaret, and A Christmas Carol.
All aboard the Singalong Train to hear your favorite Christmas tunes as well as the heartwarming story of the first Christmas in The Gift.
Wander through the Wonderland Walkway, a dazzling tunnel of lights guiding you to the Snow Angel® Palace, where YOU are a part of the experience as they tell the story of Angelina the Snow Angel in A Wish For Snow.
Take in the sights and sounds of the season with a nightly Christmas Parade including whimsical floats and the arrival of Santa Claus. Be sure to stay for the magical Snow Angel® Snowfall Finale to wrap up the evening.
Save time to visit with Santa Claus. Stone Mountain Park was named by USA Today as one of the ten best places in the country to catch Santa Claus.
Tip: Save money with the Tacky Christmas Sweater Discount Day on December 16. Come dressed in a tacky Christmas sweater and receive an Adventure Pass for only $21.95+tax. To redeem this offer visit Crossroads Main Ticket Plaza or Skyride Ticket Plaza in a tacky Christmas sweater on December 16.
 5. Georgia Aquarium's Festival of the SEAson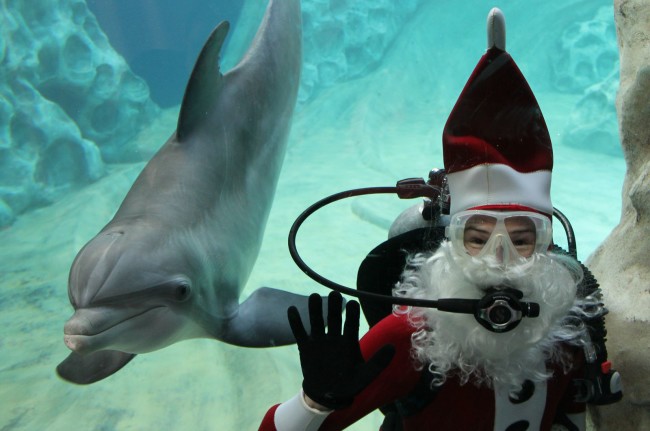 Festival of the SEAson transforms Georgia Aquarium's plaza, galleries and exhibits into a winter wonderland, incorporating a spectacular light and music show. There are appearances by Santa Claus as well as "SCUBA Claus", a holiday edition of their live entertainment experience, tree-lighting ceremonies, and interactive Santa Claus events, like Breakfast with Santa. (Read about our behind the scenes tour at the Georgia Aquarium here.) Tip: Get to the Georgia Aquarium early as it will get crowded. During Festival of the SEAson there is a daily tree lighting at 10:30 a.m. with caroling which is a fun way to start the day!
 6. Holiday in the Park at Six Flags Over Georgia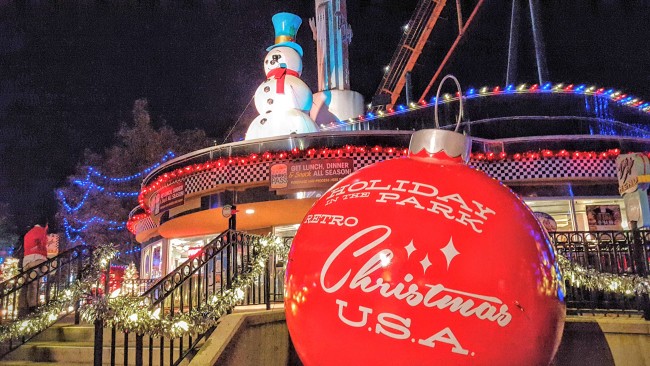 The biggest holiday celebration in Georgia has more lights, rides, seasonal activities and scrumptious food than you can imagine. Looking for a memorable experience with your family during the holiday season? Holiday in the Park is your spot! The magnificent shows and street entertainment provide great holiday tunes to get you into the Christmas spirit. Throughout the park, you'll experience millions of twinkling lights and the aroma of unique holiday food. Select rides and attractions for the whole family are open during Holiday in the Park. And the lines are significantly lower then in the summer. Go ahead and ride them all! Check out my tips for having a stress-free time with your family at Six Flags Over Georgia before you go! Tip: Look for discount codes online before purchasing your ticket. Also consider buying a season pass which gets you into Six Flags Over Georgia for all of 2017 too.
 7. Chinese Lantern Festival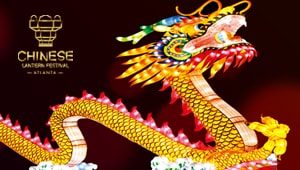 For a culturally enriching experience, head down to Centennial Olympic Park for the Southeast's first-ever Chinese Lantern Festival. In honor of their 20th anniversary, the Georgia World Congress Center Authority is lighting up Downtown Atlanta's crown jewel with this new, exciting event.
The south part of the park will be illuminated with 25 decorative lanterns, handcrafted giant flowers, a three-story pagoda and a 200-foot-long Chinese dragon. All creations are constructed by artisans from China to make the Park come alive each night. Craftsmen will set up in booths at different sections to create everything from iron wire weaving to authentic Chinese paintings. The festival also promises nightly entertainment inside the festival, featuring acrobatics, dancers, theatre, and more. Tip: You don't want to miss the performances. They are scheduled nightly at 7 p.m. and 9 p.m.
 8. Winter Wonderland at Fernbank Museum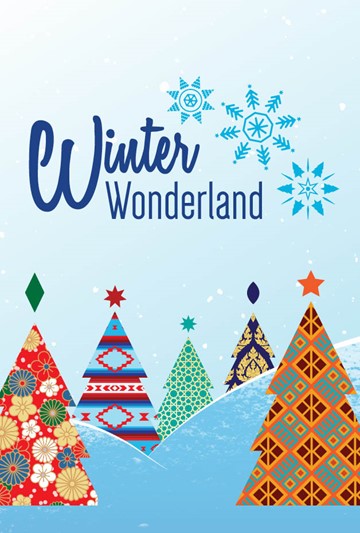 Prepare to ooh and aah over two floors of twinkling, beautifully decorated trees showcasing celebrations around the world at the Fernbank Museum's Winter Wonderland. This is one of the best places in Atlanta to showcase the diversity of celebrations, holidays, traditions and events from around the world. Have fun participating in the Winter Wonderland Seek and Find Family Activity and don't miss the Holly Jolly Film Festival either. Tip: The Fernbank Museum is now open 10 a.m. to 5 p.m. daily (except it is closed on Christmas).
 9. Atlantic Station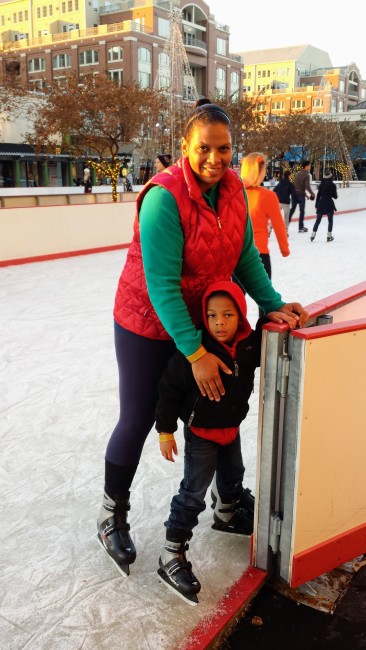 Atlantic Station, Atlanta's favorite live-work-play neighborhood in Midtown has brought back a great line-up of family-friendly holiday activities this year. Visit Santa Claus in Santa's Cottage, take a ride on the Steel Mill Express, and spend some time remembering how to ice skate at Skate Atlantic Station. New this year, Atlantic Station is hosting the Christkindl Market, Atlanta's first authentic German holiday market in Central Park. The market will sell goods imported from Germany, including mulled wine, imported beer, brats, bakery products, marzipan, lebkuchen, christstollen, chocolate confection, Christmas decorations, wooden toys, glass art and plush toys. Decked in dazzling lights, Atlantic Station is the perfect holiday destination. Tip: There are special events nearly every day leading up to Christmas (and beyond). Check out atlanticstation.com for all the details to make sure you catch some!
 10. Holiday Bricktacular at Legoland Discovery Center Atlanta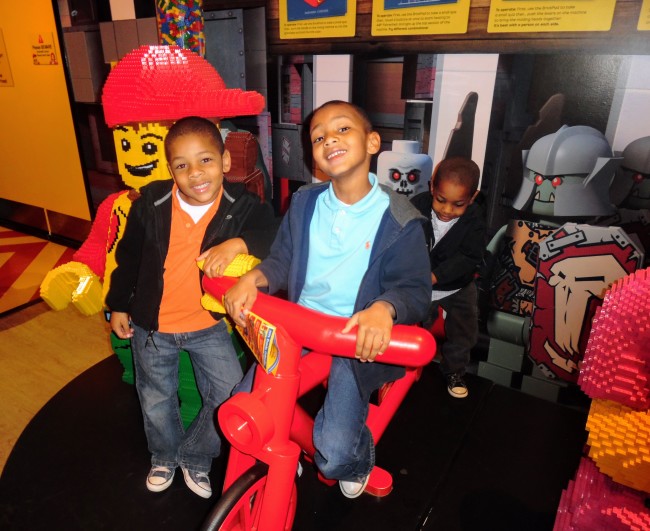 Families can make some merry for sure at the  LEGOLAND® Discovery Center Atlanta's Holiday Bricktacular. With the help of Creative Crew members, LEGOLAND Discovery Center Atlanta's junior team of Model Builders, the attraction is decked out in holiday decorations. In addition to all the super fun LEGO-themed rides, attractions, and interactive displays, during the Holiday Bricktacular, guests can also learn how to create LEGO holiday trees. And be sure to experience the winter takeover in MINILAND®! This is one of the most small-child friendly of all the 2016 Atlanta holiday events. Tip: Wear your ugly Christmas sweater! During the month of December, groups with at least one, jolly person wearing an ugly holiday sweater will receive 10 percent off of their retail purchase, some restrictions apply.
 11. Holiday Festivities at World of Coca-Cola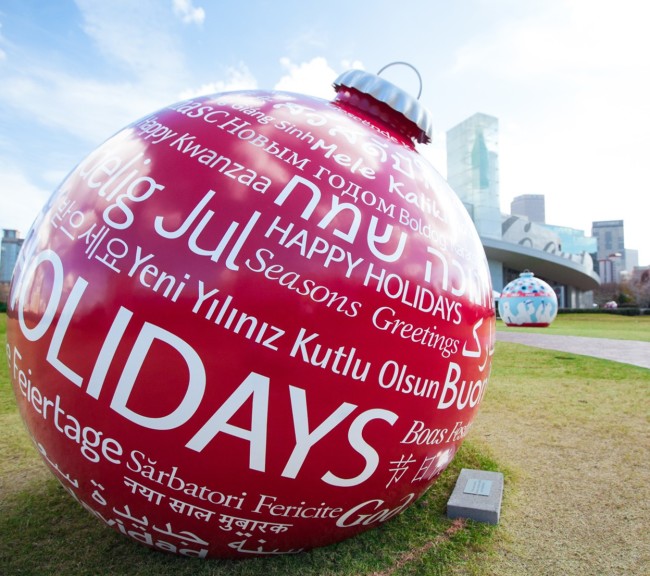 Outside World of Coca‑Cola, Pemberton Place is alive with holiday lights and oversized ornaments. The scene is just as festive inside with giant holiday Coca‑Cola bottles and ornament trees. The Lobby also welcomes you with "happy holidays" in languages from around the world. Get a taste of the season and sample three specialty holiday beverages Gingerbread Coke®, Diet Gingerbread Coke® and Chocolate Cherry Coke® at the sampling bar in the Taste It! beverage lounge. And don't miss the special opportunity to view timeless artifacts in the holiday exhibit, A Coca‑Cola Christmas Celebration. The exhibit celebrates how Coca‑Cola has been a part of Christmas celebrations all over the world and features historic Santa artwork by Haddon Sundblom. Tip: All Active Duty, Reserves and Retired members of the U.S. Armed Forces receive FREE admission to the World of Coca-Cola every day!