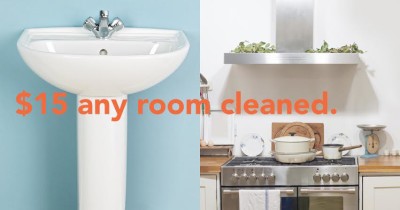 There are probably 1000 reasons you deserve a house cleaning service. As a mom with a very "lived in" home, I understand how cleaning is always on my list of things to do but doesn't always make it to the top. Things like keeping the kids alive, feeding them, and getting them everywhere as close to on time as possible take precedence. So when I was contacted by WellKept, an a la carte house cleaning service in Atlanta, I jumped at the chance to try them out. I figured even if they weren't very good, some cleaning is better than no cleaning, right?
"Scrubbing a toilet is the best," said no one. Book $15 bathroom cleaning instead, #Atlanta. https://t.co/3K768u0ie6 pic.twitter.com/8ZPeEPQhCG

— WellKept (@WellKeptATL) February 12, 2016
Well they were very good. In fact, they were excellent. I was embarrassed at how long they worked at getting my out of control house back in working order. Two people worked hard…like sweat beading on their foreheads in winter hard…for 4 hours on my 3 bedroom, 4 bathroom town home. They scrubbed and swept and vacuumed and dusted and made everything from my floors to my mirrors to my stove shine. I loved that I could book them online yet they also called before arriving to give me the human touch.
Adulting is hard, Atlanta. A la carte home cleaning is easy. Whole home cleanings start $60. https://t.co/OnhVxTZfJs pic.twitter.com/RlAWA9iKbq

— WellKept (@WellKeptATL) February 3, 2016
I was able to communicate with the cleaners from WellKept house cleaning service well as they spoke English as a first language. There was no complaining, cutting corners, or looks of disgust when they saw the work ahead of them. I have 3 boys with precarious aim in the bathroom but after the cleaning it looked like new. For a day. Ok…2 hours. I really like the idea that you can have WellKept clean your whole house or just a room or two. For $15 they will come and clean your kitchen or a bathroom. That's huge for me. I can get back so much of my day just by letting a house cleaning service give me a hand once in awhile. Awesome.
Think you don't "deserve" to use a house cleaning service because you're a stay at home mom or because you work outside the home or because you have two good hands or because you "shouldn't" use the money for that or a myriad of other reasons? Two words: think. again. Here are 15 reasons you deserve to use a house cleaning service like WellKept.
15 Reasons You Deserve a House Cleaning Service
You hate to clean. Like…Hate. It.
 You got the kids to school on time all week. But now the kitchen is a mess.
The in-laws are coming! Oh my!
 You have kids and want to spend time with them.
You recently popped a human being out of your body. (Such a cool party trick.)
You're throwing the 3 year old birthday bash of the year and inviting the judge-y mom from the preschool
Said birthday bash went off without a hitch, except now you have to clean it all up.
 You have boys who pee. Or a husband who pees. And you are sick of cleaning it up!
You fondly reminisce about having time to sit and eat lunch. 
You can't remember the last time you changed your sheets. (Changing sheets is included with WellKept.)
Your husband says things like, "Well I didn't marry you for your cleaning." Yeah…
You could get so much more done if you have some extra hands helping you. (Let them clean while you purge!)
You wonder what it would be like to have extra time in the day.
You kept the kids alive and fed, and got homework and baths done even though your husband was out of town.
You are a mom who does so much for her family and getting a little help every once in a while to have a beautiful, sweet-smelling, shiny house is not too much to ask. Especially when you can get some help for as little as $15.
WellKept is currently a house cleaning service available in Atlanta and surrounding communities. Book a room cleaning for $15 or a whole house starting at $60 with as little as a days notice. Go ahead. You deserve it.