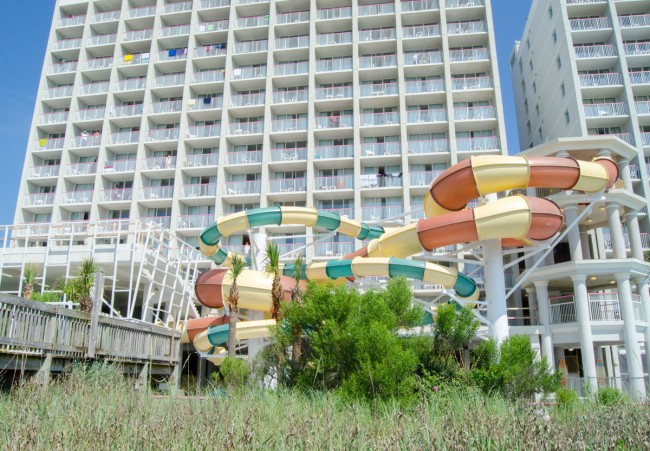 I received accommodations and a resort credit in order to facilitate a review of the newly renovated Crown Reef Beach Resort in Myrtle Beach, SC last month.  Of course, all opinions here are my own.  And you know I have opinions!  The truth is that the Crown Reef Beach Resort is a great value for families.  Hello…rates start as low as $49/night! You can barely get dinner for a family for $49, much less a hotel room on the beach!  So affordability is the number one reason to check out Crown Reef Resort.
Here are 12 other reasons you may want to visit Crown Reef Beach Resort:
It's super family-friendly.
You get lots of space.  We had 7 people with us on this trip because my 15 year old niece came too and our suite slept 8.
You can cook your own meals, saving tons of money.  Our unit had a great galley kitchen with full size oven, refrigerator, and microwave with all the dishes and utensils you would need. We bought pizza's at Publix and cooked them ourselves and saved about $30 on that meal alone.
It is right on the beach.
The newly-renovated water park is really terrific.  REALLY great. My kids loved the water slides!
An ocean-view suite, with balcony, is always a bonus.
It is loud enough to not have to worry if your baby cries or your kids are acting up.
Crown Reef Resort is a come-as-you-are type of place.  No need to worry about being all proper.
Guests come here to let it all hang out. Want to wear a bikini and not worry that people are judging the little jiggle you have?  This is the spot.
Myrtle Beach is a driveable vacation spot from most places on the East Coast.  It took us about 6 hours from Atlanta.
The arcade in "Town Center" at the resort is good place for inside fun during rainy days or when you've had enough sun.
Free parking!
Planning to book a trip to Crown Reef Beach Resort? Here are 11 tips to know before you go:
Check-in is across the street at the conference center. There is no lobby or regular registration for guests at the main hotel.
Parking is free but it can be limited and the lot doesn't have great lighting. We parked on the top level to feel more secure.
The pool deck can get crowded. Get out there early to get a chair.
The pool deck has a party atmosphere. It is still family-friendly but be prepared for loud crowds who are ready to get 'turnt up'.
Do not get a "water slide view" room. It obstructs the ocean which is an AWESOME sight.
Be prepared for lots of smokers.
There is no pool service for food. There is a pool bar but it only takes cash. The daiquiris looked amazing but I didn't have cash!  I walked up to the restaurant and had a good one though.
There are no restrooms on the pool deck or on that level of the hotel at all. The nearest bathroom is up two flights of stairs (or what could be a long elevator wait) down a hallway and through the arcade.  When one kid has to go, bring them all!
All the Crown Reef Beach Resort rooms open to an outside walkway (like a motel).  Be prepared for hearing everything in the walkway. Maybe think about bringing a sound machine if you're trying to get the kids down at a decent time.
Bring your own towels.  We couldn't find them anywhere.  (At the end of our trip we figured out you could get towels from guest services which is on the 2nd floor.  There is no towel service at the pool.)
Bring food!  It will save you money and you can use the en suite refrigerator to store everything.  There is no room service and the restaurant, Loco Gecko, is good but it could get expensive (and a little high on the calories) to eat there for every meal during your vacation.
The bottom line is that the Crown Reef Beach Resort is great for families who don't want to get out of their swimsuits.  The beach is great.  The pool has tons of activities. And the restaurant is swimsuit and flip-flop friendly (just put a shirt on, sir). And again…as low as $49/night!  Check out some photos: