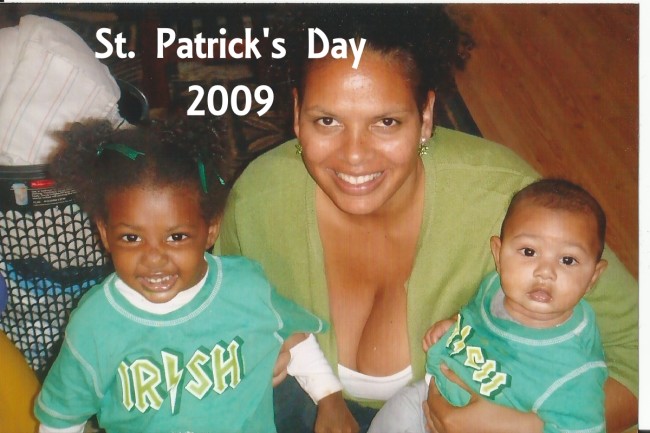 On St. Patrick's Day (March 17 if you didn't know), it's been said that everyone is Irish. While this is true, I have the delightful distinction of also being Irish the other 364 days of the year as well.
I don't know much about my genetic history, but I do know that I am part Irish. And I know that the family that adopted me is part Irish too. In fact, they are so Irish that St. Patrick's Day was like Thanksgiving for us. We would get together for a traditional corned beef and cabbage dinner and have Grasshopper Pie for dessert. My grandmother used to even have a St. Patrick's Day tree she would decorate each year. To this day, we still call each other and wish one another a Happy St. Patrick's Day. I miss our green dinners. I miss my little Irish grandmother who used to make them.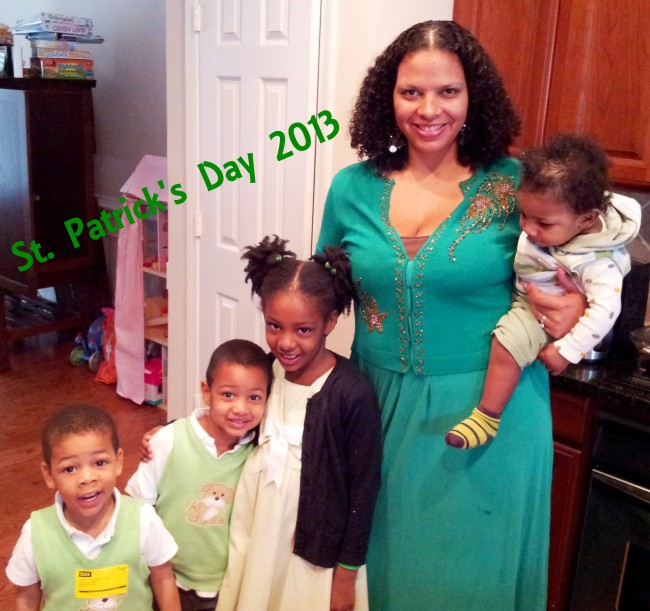 Now, I do my best to bring those Irish tradition to my own family. I teach my kids the Irish jig. We say the Irish Prayer. And of course…we wear green. Since I'm always looking for St. Patrick's Day recipes, activities and events, I thought I'd do my research and then tell you all about them as well. We can all be Irish together!
St. Patrick's Day Activities
My blogger friend Melanie from ModernMami.com has a great post with ten free St. Patrick's Day printables and activities for the whole family. St. Patrick's Day treasure hunt, anyone? Or how about some adding some Disney magic to the holiday?
Over on ExtraordinaryMommy.com, they have a list of five activities to do with the kids on St. Patrick's Day. Sometimes you want to do something to mark a holiday, but you just don't know what to do! Well this list has got you covered. And if you make the Chocolate and Mint St. Patrick's Day Cupcakes please invite me over. 'K?
Renee on Cutie Booty Cakes has a fun St. Patrick's Day activity I know my boys would especially like: Making green slime. While I am typically an anti-mess type of mom, this seems like it might not be that bad. Maybe. Possibly. You do it and let me know.
St. Patrick's Day Events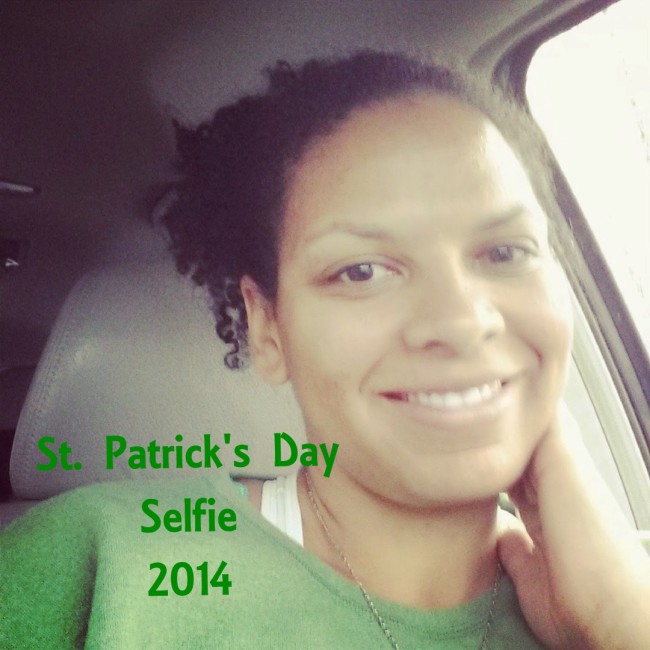 In Atlanta? Head down to one of the oldest parades in the country. On March 14, 2015 (that's tomorrow, folks), the 133rd  Atlanta St. Patrick's Day parade will kick off in downtown Atlanta at 12 noon. It will feature clowns, floats, bands, bag pipes, and more! Afterward, head over to Atlantic Station for their Shamrock the Station family-friendly party from 2-6 p.m. (The good stuff, i.e. adult stuff, will go until 10 p.m. with green beers flowing like rivers…if you're into that kind of thing.)
Visiting Chicago? You must get up early to see the river dyed green. It's a real thing. And very cool to witness. The dye gets dropped promptly at 9:15 a.m. March 14, 2015. Try the Michigan Ave bridge for the best, but most crowded, views. I spent many years marching in the Chicago St. Patrick's Day parade as a kid so it always holds memories for me. This year, as it does every year, will step off at 12 noon and wind through the downtown streets of the Windy City.
Heading to Savannah? People outside of The South might not know that one of the largest St. Patrick's Day gatherings is held each year in Savannah, Ga. It could be because of the historical tradition of Irish coming into this port in the 18th century, or it could be because of Savannah's loose open container laws, either way it should be a rocking good time. The big St. Patrick's Day parade is held on St. Patrick's Day (Tuesday, March 17, 2015) and will begin at 10:15 a.m. Savannah will be celebrating all weekend though with parties, festivals, and special events…all with a touch o' green.
St. Patrick's Day Recipes
I'm usually the one sifting through Pinterest looking for St. Patrick's Day recipes I can make and I think my kids will like. This year, I don't have to go to the time suck that is Pinterest. I can go to my own mother's blog! My dear mother started AllServedWithASideOfLove.com a few months ago and has been serving up her fantastic recipes for all to use! She gives you lots of details and makes it look so easy I think even I could do it. I mean…maybe. She recently gave out her recipe for my grandfather's favorite Grasshopper Pie. (I like it heavy on the creme de menthe, with a side of Bailey's, thank you very much).
Though I am just not a corned beef and cabbage type of girl, I can eat my weight in Irish Soda Bread. You haven't had this delicious concoction?  Gasp. Then you must make it!  My mom's recipe is simple and straightforward and I'm going to make it this year. It's high time I pass on these St. Patrick's Day baking traditions to my kids.
What will you do for St. Patrick's Day 2015? Erin Go Bragh and Happy St. Patrick's Day to you!