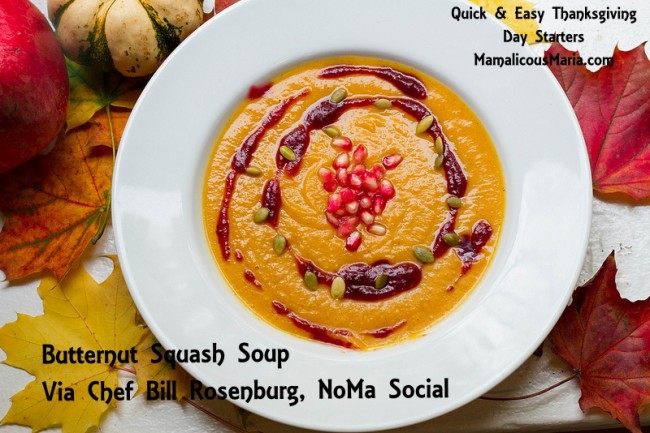 Thanksgiving is one of my favorite holidays.  There is no pressure to give out "good" candy or hide eggs or buy presents. The only thing needed is food. And lots and lots of the best kinds of food I rarely let myself indulge in. Yum! However, I don't have the time or patience to spend hours…or DAYS even…in the kitchen preparing Thanksgiving like my Mom did. I needed some quick and easy recipes, and I figured you might too, so I decided to get professional help.  I went straight to the top and asked Chef Bill Rosenberg, an executive chef at one of New York City's top restaurant, NoMa Social, for some help.
Chef Rosenberg graduated from the Culinary Institute of America in 1992 and has earned critical praise ever since. He has spent his 20-year career as executive chef for some of the New York metro area's top restaurants. He is now executive chef at NoMa Social. He provided MamaliciousMaria readers with several distinct Thanksgiving recipes with a unique Mediterranean flair.  Best of all though, they fit my definition of quick and easy.
Today we will start with Quick and Easy Thanksgiving Day Starters which includes a Butternut Squash Soup with fresh cranberry and crushed ginger snaps and Homemade Cornbread.  I can't wait to try these recipes!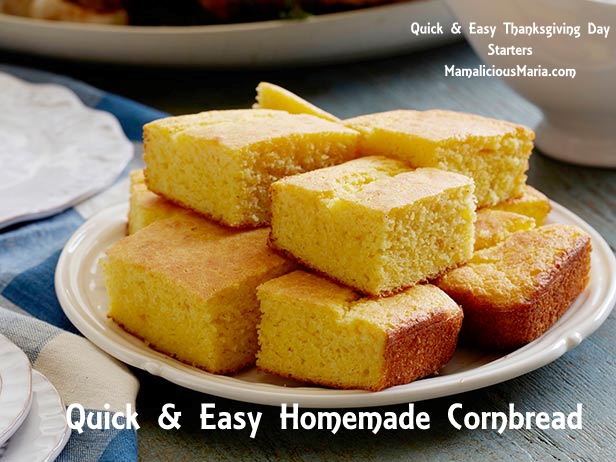 Homemade Cornbread
Prepared by Chef Bill Rosenberg, Executive Chef of NoMa Social
Ingredients:
 1 lb Butter
 1 quart sugar
 9 eggs
 ½ quart corn meal
 1 ½ quarts all-purpose flour
 ½ quart cream
 ½ quart milk
 ½ quart sour cream
 2 tablespoons salt
 2.5 tablespoons baking powder
Directions:
Preheat oven to 325 degrees.
Mix butter and sugar until fluffy. Add eggs 2 at a time until smooth. Next add cream, milk
and sour cream. Scrape bowl; add flour, cornmeal, and salt, baking powder until just
combined. Do not over mix. Pour into a buttered hotel pan & bake for 40 minutes until a
tooth pick comes out clean. Cut and serve.
Butternut Squash Soup
Prepared by Chef Bill Rosenberg, Executive Chef of NoMa Social
Ingredients:
 4 Butternut Squash (peeled, seeded and cut into 2″ chunks)
 2 Spanish onions (rough diced)
 5 pieces of celery (rough diced)
 11.5 inch piece of ginger (peeled)
 1/2 pound of butter (2 sticks)
 Chicken stock (just to cover)
 1 cup brown sugar
 1/4 cup granulated sugar (more or less depending on taste)
 salt and pepper to taste
Directions:
Place all ingredients into large stock pot except sugars, salt and pepper.
Bring to a boil, then reduce to a simmer.  Cook until all vegetables are soft. Remove from heat and puree in a blender until smooth. (Note: Use caution as soup is hot. Cover lid to blender with a hot towel and only fill blender just over halfway full.)  Once finished blending, pour mixture into another pot and add sugars, salt, and pepper. Garnish with fresh cranberry sauce and crushed gingersnaps.
What is on your menu for Thanksgiving?