EVERYONE needs easy cookie recipes! Duh! Easy cookie recipes are especially necessary around this time of year though. I'm all about simple, easy, and uncomplicated and found some great recipes using cake mix that are fantastic. The great thing about making a cake mix cookie is that it can be totally customized. Don't want nuts? Love coconut? Have a hankering to put carrot cake with white chocolate?  These recipes can do it all. The cookies are delicious and best of all these are some are EASY COOKIE RECIPES. Perfect to make with little "helpers".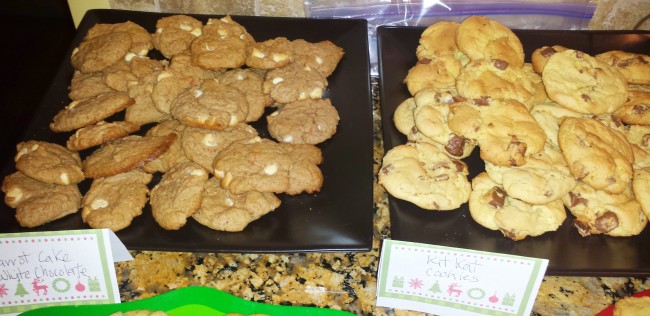 I made two varieties of these cake mix cookies this week for a cookie exchange. The recipes yield 3-4 dozen based on how small you make the cookies. I make carrot cake and white chocolate chip cookies and used the basic recipe for a bit of a crisper cookie. I added in the optional ingredients for the KitKat cookies (using chopped up KitKats leftover from Halloween) and I liked the softer texture and lighter hue. Both were big hits at the exchange though. Best of all, they were easy cookies to make!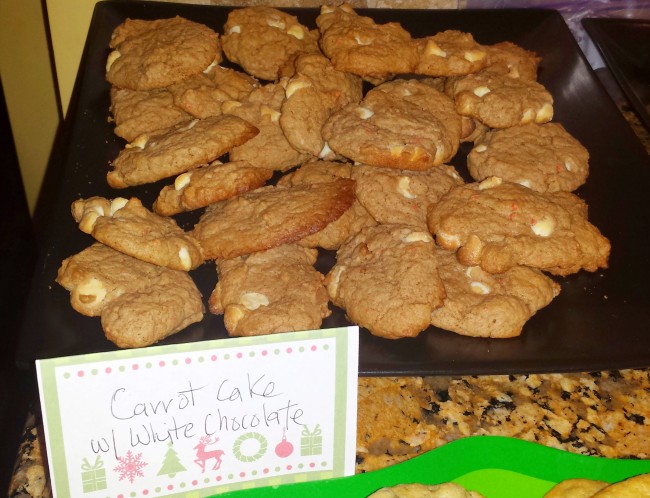 Cake Mix Cookies
1/2 cup butter (softened)
1 boxed cake mix (any kind you want)
2 eggs
1 teaspoon vanilla (optional)
1 tablespoon baking soda (optional)
1 cup chocolate chips, crushed candy bars, sprinkles or anything else
*If using a dark cake mix like chocolate or carrot, add in 1-2 tablespoons of water)
Mix the cake mix and baking soda in a mixing bowl. Add in butter, eggs, and vanilla and water (if using) and mix into a dough with mixer until everything is well combined. Then stir in the mix-in of your choice. Place spoon-sized scoop on baking sheet about 2 inches a part. Bake for 8-10 minutes at 350 degrees. Let cool on the cookie sheet for 5 minutes before removing to a wire rack.
What cookies will you be making this holiday season and beyond?