Six Flags Over Georgia is the place to be this summer. My family received complimentary tickets last month to check out all the new and notable things at the theme park this year. And there are a lot of them. From the second season of Hurricane Harbor to the opening of The Joker and Spinsanity to being able to ride Batman backwards, there are tons of things to see and do at Six Flags. Don't let that stress you out though! Taking kids to a theme park can be overwhelming, especially if you're outnumbered, but you can do it! Here are some tips to help you make those most out of your visit to Six Flags Over Georgia or ANY theme park this summer!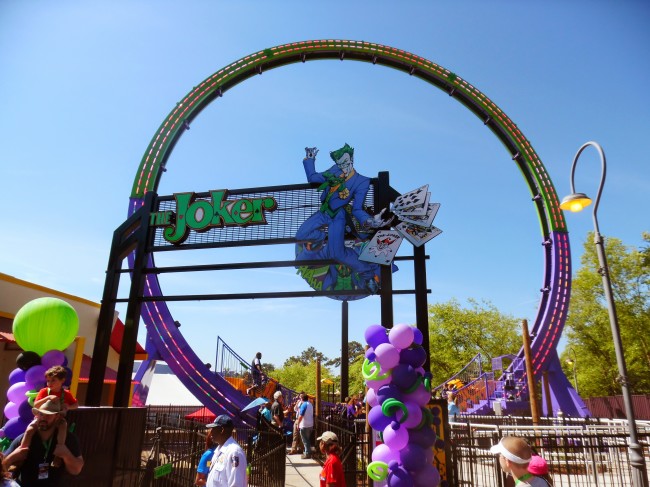 13 Tips To Make Your Six Flags Over Georgia Visit More Fun
Look for discounts. Don't pay full price and waste time standing in lines at the front gates. Take advantage of the best discounts by checking online and buying tickets before you come.
Call ahead. Yes. I said "Call". To make sure you can do the activities you want to do most, call ahead for park information and show schedules before you visit. You can also get additional information on special events, concerts, and general park information. (770) 948-9290
Visit when it's less crowded. Plan to visit when attendance is lightest. Best Bets: weekdays during the summer and any regular operating day during the months of April, May, June, and September.
Prepare for the weather. Bring a jacket or sweater for cool evenings or if damp clothes are going to give you a chill. Six Flags Over Georgia has plenty of lockers so you don't have to carry it around all day.
Prepare for the unexpected. Be sure to designate a meeting place and time in case your family becomes separated.
Bring a stroller. If you have a child younger than five, you are going to want a stroller. You can bring your own or rent one from the Stroller Rental area. They are provided on a first-come, first-served basis, so arrive early.
Plan ahead. Review the park map to familiarize yourself with the park's layout.  And pick up a show schedule, available at all show facilities, stores, and Guest Relations to make sure you have the most updated information.
Know when to ride the coasters. Start your day at the attractions furthest from the main entrance. To avoid long waits, visit your favorite rides (and the ones that are probably everyone's favorites too) when the park first opens, or after 5pm when fewer guests are in the park.
Eat smart. To save time, stress, and aggravation, eat at non-traditional lunch and dinner hours.
Don't push your kids. Make sure all the kids feel comfortable with a ride before they board. Even if you waited in line forever, don't push them to get on a ride they are terrified of. Just understand it's part of the process.
Use the Baby Swap process if needed. Don't let a little one stop you from riding with your big kids. Leave the young one with your spouse or riding partner at when you get on the ride and then when you get off, swap places.
Stay hydrated.Drink fluids throughout the day to stay hydrated. Water is readily available throughout the park. The unlimited refill cups are a great value too, especially on less crowded days.
Wear sunscreen. Be sure to put it on before you arrive at the park and reapply it throughout the day.  You can buy it in several shops at Six Flags Over Georgia in case you forget to bring some.